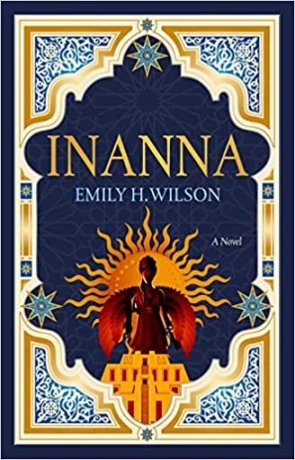 Book details
Inanna

Series:

Book 1 of Sumerians Trilogy

ISBN:

9781803364407

Published:

August 2023

Pages:

496

Format reviewed:

Paperback

Review date:

01/08/2023

Language:

English
Books in the series
A lot of what goes on in Fantasy novels is miraculous, magic spells cause havoc on the battlefield, or dragons swoop through the air. Their very nature is that they are fantastical. Some of the characters are like Gods with their powers, but few claim to actually be deities. When Inanna is born, she is told that she is one of the Anunnaki, Gods that walk the Earth. Who is she to think otherwise? Gilgamesh was born of Gods but is a mere mortal and Ninshubar did not even have the Gods on her side. The three of them will discover what it is to be a God and whether these are not Gods, just very naughty beings.
The age of the Anunnaki is ending with no new God-like beings created in centuries and the ones that are still living are starting to fade. When Inanna is born, it is not seen as the blessing it may have been. Did her parents cheat to bring her to life? Inanna is the God of Love, but she is also the God of War. Through the actions of the other Anunnaki, Inanna transforms from one into the other to become the most powerful being on Earth.
Writing about Gods is tricky as you can make them all too human so that they become relatable, but the point is that you cannot relate to them. They are all powerful beings that lord it over the likes of us. In Emily H. Wilson's Inanna, the author makes the Gods flawed and interesting, but also otherworldly. This is a portrayal of Gods that I can understand. Our petty differences may end in a fist fight in a Pub car park or divorce, but when the Gods bicker, cities fall, and mortals die.
To offset the Anunnaki story thread of ultimate power, Wilson has two other tales to tell that interweave with Inanna. This fantasy novel is based on Sumerian mythology and Gilgamesh is a main thread in these. He is the one character that people may know; I had heard of him. There is a reason as his story is a good one; mortal born of Gods who questions the Anunnaki's right to divine power. We see all the characters in Inanna evolve greatly; Inanna from Love to War, and Gilgamesh from playboy to man of focus.
The final character should be the weakest. Ninshubar is a mere human chased from her village and forced to make her own way, but what an adventure. In many ways, hers is the most dramatic story, a character that rises to the very top. Ninshubar is indicative of the interesting characters that populate this book. Wilson makes all the Gods fickle, but intriguing, but also plenty of human characters that you enjoy learning about.
All these characters populate an interesting world, based on ancient text, but very much modern-day Fantasy fiction. Wilson has used the framework of Gilgamesh's tales to create something new by focusing equally on that character with Inanna and Ninshubar. There are epic battles and scenes of family intrigue and betrayal – think Game of Gods. This is a fantasy story that will be enjoyed by any fan of the genre, but also works for those that like a loose take on Historic Fiction. As someone unfamiliar with the fate of the characters, I am interested to know what will occur in later books in the series and that is always the sign of a strong first outing in a Fantasy series.
You may also like