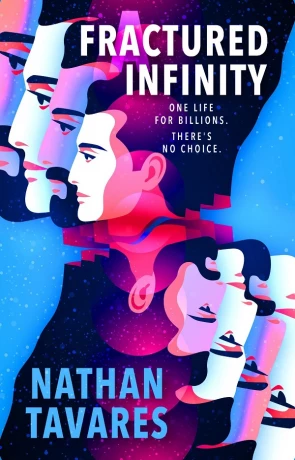 Book details
Fractured Infinity

ISBN:

9781803360386

Published:

November 2022

Pages:

359

Format reviewed:

Paperback

Review date:

03/11/2022

Language:

English
Think too long on the multiverse and your mind will explode. Every tiny action you take splits off into another multiverse, then extrapolate that with everything making tiny actions. There will be an infinite number of universes that only differ from the way you tied your shoelace that morning. Popping from one near identical place to another would not make for the most exciting fiction so Nathan Tavares has rightly spiced things up in Fractured Infinity, a book about an infinite number of multiverses, but more about how love can draw the same people together across them.
Hayes Figueiredo is not up to much, just finishing his latest documentary project, when a scientist called Yusuf Hassan arrives at his doorstep. They need Hayes' help unlocking a strange machine that has been found in the desert. Why is Hayes so important? An alternative version of Hayes may just have been the inventor. When Hayes starts to learn more about the machine, rather than becoming more useful, he becomes a threat. Now Hayes is on the run across the dimensions in hand with his new love, Yusuf. Can they both survive?
The concept of multiverses opens a novel to so many possibilities, it boggles the mind. You can leap from place to place, never settling. That is not that book. Fractured is a grounded novel. It is grounded in the relationship between Hayes and Yusuf. The first half is all about building up their feelings and you do not get to dimension jumping until later. This pays off by increasing the sense of tension as Hayes must decide what is more important, one man, or billions of people?
The theme of love between Hayes and Yusuf plays out across different planes when they meet variants of themselves. All have a story to tell, some of love and some of loss. Tavares does an excellent job of making all the versions different, some are friendly, whilst others will look to exploit Haye's power. As the book progresses the reader starts to wonder if Hayes is not the true nemesis in the book. Just because we are told the story from this perspective, does not make it the right one.
There is a nice relationship drama in the book that also includes their flawed friend Kaori. It all sits on top of some impressive world building. Hayes is an average type of person, but the world is an alternative future. Tavares does the right type of world building, hinting in conversations and small descriptions how matters have evolved. In the few other worlds that we do visit, Tavares proves that they can also write punchy and quick world building, you get a sense of where you are in only a few sentences.
When everything is happening all around, it is nice to read a book with a driven character that has only one thing on their mind. Their motivation is love. All the good things; compassion, happiness, but also all the bad; selfishness, jealousy. Fractured is a compelling relationship story with an epic science fiction backdrop.
You may also like