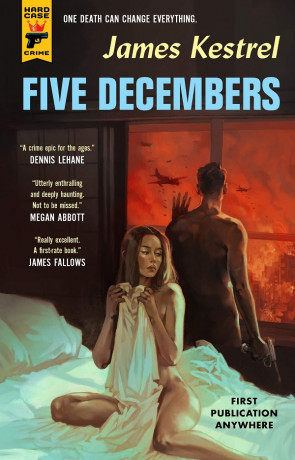 Book details
Five Decembers

Publisher:

Hard Case Crime

ISBN:

9781789096118

Published:

October 2021

Pages:

432

Format reviewed:

E-Book

Review date:

19/11/2021

Language:

English
Noir is not always an easy genre to write, there is a timeless tone to it. You can pick up a book that was written 70 years ago and it still has all the effortless style to make it incredibly readable. If you are going to write a new noir set during the classic noir period you are not only competing with other new books, but a library of classics. James Kestrel has boldly taken on the challenge with Five Decembers a brand-new noir set during and after World War Two, and the author may have just carved out their own classic.
Joe McGrady is a former solider turned Detective in Honolulu. He has never been accepted as a local, but when a vicious murder occurs, he is the only Officer available. A man is found hung by his feet, brutally murdered. McGrady's first major case may just be his last as it leads to more than one corpse and more than one country. The Detective travels to Hong Kong in 1941 to further investigate the murder, a region that is on the brink of conflict.
There are all the elements of noir that make Five Decembers a delicious read, but it goes so much further than that. The opening segment is a classic murder mystery and as a reader I was happy with just this. However, Kestrel's ambition for the book was far larger and McGrady goes on a journey that spans years and continents. A domestic story becomes international. During the lead up to and outbreak of World War Two, this means a gruesome murder in Honolulu might just be factor in the future of millions.
The sense of time and place is excellent. Reading the acknowledgments, Kestrel went on their own journey when authoring this book to ensure that all the elements were researched. All this knowledge is found on the page and as a reader you find yourself comfortable with an author who knows what they are doing. Kestrel not only set out to master the noir genre, but also historic fiction. The narrative of this book means that it will appeal to not only crime fans, but anyone that enjoys books with a historic setting. It feels so professionally researched.
As a noir fan it is easy to just fall back on books written at the time as there were so many. To visit the genre and time Kestrel needed to do an outstanding job, and they did. Five Decembers has all the tone and class of the genre, but it is also effortlessly modernised. Not in terms of tone, but in terms of writing. This is an easy read as the structure and language is suited better for modern tastes. Some of the action and characters are also more palatable to a modern audience, without compromising on the structure. This book has murder, war crimes and Nazis, but avoid some of the jarring old fashioned language that can take a modern reader out of a noir tale.
It is testament to Kestrel's writing ability and research that Five Decembers feels like it could have been written during the golden age of noir. It is only the hidden modernisation that subconsciously informs the reader this is a book from 2021 and not 1951. This is a perfect book for fans of the genre, but also new readers as it will introduce them to a fabulous genre in a style that reads effortlessly. As a book Five Decembers feels epic, with twists most people will not see coming. The end is hugely satisfying, but also has you wanting more novels from Kestrel, a writer to look out for.
You may also like