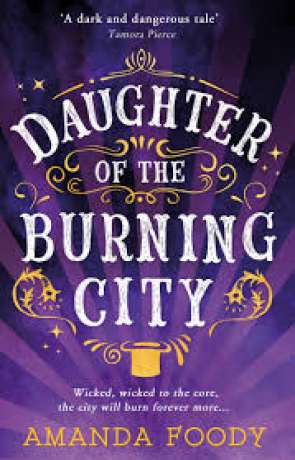 Book details
Daughter of the Burning City

Publisher:

ISBN:

B06XGL87PD

Published:

June 2017

Pages:

384

Format reviewed:

Paperback

Review date:

20/11/2017

Language:

English
The best thing about Amanda Foody's debut lies in the title itself. Her 'Burning City' is an immersive, sensory experience that rivets from the very first page. The smoke from her traveling circus wafts off the page, the dirt and ash from the trodden ground almost tangible on the tongue. The 'freaks' that adorn the main stage of her Gomorrah Festival are so gaudy and rich that no space is left in the imagination for error. It's an engulfing and curious experience.
But a good book is more than just its setting, and this story of young Sorina and her quest to uncover who's murdering her 'Freak Show' family is an uneven one.
The premise is intriguing, as each of Sorina's family members are as bizarre as can be imagined (a baby pyromaniac, a giant, sentient tree and a man made up of enormous finger nails are just a few), and getting to know them, as well as the rules that constrain them in Foody's world is quite fascinating.
Sorina herself is also an interesting construct: 16 years old, both eyeless and able to see, the only 'illusion-worker' in the city and also the person in line to take over management of the city from her adoptive father, Villiam, in the not-too-distant future.
However throughout the book, Sorina flits too easily between overriding confidence and recurring self-doubt in a way that feels difficult to connect with. Throughout her investigation into the murders, she ponders whether or not she is able to ask herself the 'hard questions', which ultimately isn't able to do. This inability holds up the narrative, dawdling too long on romantic entanglements and denying the reader the opportunity to follow any clues to try and work out the end.
The impact of the final reveal feels muted in part because of this hold up in development, meaning it lacks the punch it should have considering the events that have unfolded.
Overarching political conflicts between the circus and its various host cities also fail to feel as significant as they should, especially when suggested as a possible motive for the attacks later on.
However, the attacks themselves are gruesomely depicted, drawn vividly by Foody and making for visceral and uncomfortable reading. The next attack is feared yet perversely desired, and easily one of the primary reasons to keep the pages turning.
But ultimately the pleasure here is in Foody's world, which is a fresh departure from the norm and a confident statement in a debut novel. Additionally, for its target audience of young adult readers, Daughter of the Burning City is unfailing in its message of acceptance and individuality, woven within an interesting, curious and vivid world.
Written on 20th November 2017 by Alice Wybrew.
You may also like