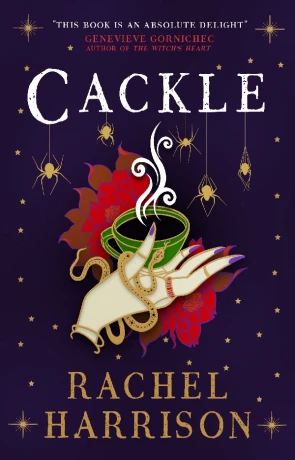 Book details
Cackle

ISBN:

9780593332726

Published:

September 2022

Pages:

304

Format reviewed:

Paperback

Review date:

11/01/2023

Language:

English
Witches have a bad reputation, green skinned, covered in warts and prone to stealing children so that they can use their bones for broth. People feared the idea of witches so much that they would place innocent people on trial. Don't they realise that if witches were as powerful as they thought, they would turn the villagers all into toads before they allowed themselves to be drowned? Or would a witch stay hidden, settle down in a picturesque village and use their influence to control the population? In Rachel Harrison's Cackle we discover that life may be better as a witch.
Annie did not want to move out of New York to a village upstate, but when her long-term relationship ends, she finds herself needing a job and a place she can afford on her own. The small town seems perfect, perhaps too perfect. It looks fantastic, a quaint hidden gem and all the people are friendly, perhaps too friendly, especially to the enigmatic Sophie. Sophie has a hold over the locals. Is it because she owns the big house in the woods or because she owns a lot of the land the village sits on? Or is it something less natural.
Cackle may be a book that contains a witch, but it centres on something that many people can relate to far easier – the breakup of a long-term relationship. The feeling of losing a part of yourself, your routine, the person that you planned to spend the rest of your days with. This is where we find Annie, living her life, but not paying close attention. She would take her ex back in a heartbeat, but does he want her?
Enter the new friend, Sophie. At first, she is just a great person to meet in a new place. Knowledgeable and on speaking terms with all the locals. She is a friend, but also a sister and mother figure rolled into one. Older, yet ageless. Youthful, yet mature beyond her years. Sophie is just the person that Annie needs to help her settle into her new life and help her to forget her old, but we suspect that there is more to Sophie than first meets the eye.
Where Cackle departs from the norm is this point. Does Annie care that her friend may be a witch that has lived hundreds of years? Not really, the locals may act oddly around her, but Sophie has been nothing but kind to Annie. Harrison plays with the cliches about witches in fiction. The reader assumes the worst, but are we as prejudice as the local villagers? Sophie may have done things in her past that she is not proud of, but she will say it was always self-defence. Who does the reader and Annie believe? Our worst instincts or the person we see in front of us.
I loved the relationship that Annie and Sophie develop in the book. It is odd and eccentric, but so are the characters. Annie is a well written character, broken, but ripe to be fixed. As the story progresses, we learn more about Sophie. There are critical junctions in the relationship were Annie needs to decide if her future is in the village with Sophie or back with her Ex. It is a coming of age for Annie, a few years later than it should have happened.
For a book about a witch, Cackle is light and an absolute joy. It is heart-warming and affirming, but with a nice sinister undertone. Can we ever trust Sophie? Harrison plays with the baggage that the reader brings into the story. I found the book a lovely read and it has made me think of becoming a wiccan myself.
You may also like