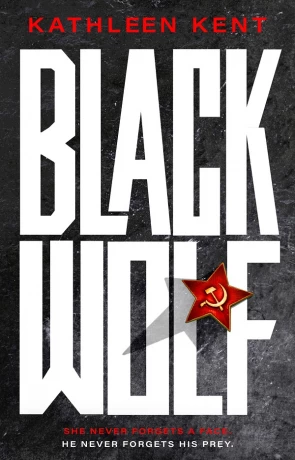 Book details
Black Wolf

ISBN:

9780316280419

Published:

February 2023

Pages:

450

Format reviewed:

Paperback

Review date:

24/02/2023

Language:

English
With the fall of the Berlin Wall, the Cold War did not stop immediately. Perestroika was a messy business with elements of the former Soviet Union flaking away at separate times. The fracturing of a once great Superpower brought with it opportunities. Opportunities for the West to invest in new markets and opportunities for less legitimate sources to source weapons grade nuclear material. It also acted as a chaotic place for a killer to work, like the serial murderer found in Kathleen Kent's Black Wolf, set in a turbulent 1990 Belorussia.
Melvina Donleavy is new to the spy game; straight out of the academy she is sent on her first mission with three colleagues behind the crumbling iron curtain to investigate scientists working in Belorussia. Melvina has been pushed to the front so quicky due to her innate ability to remember any face that she has ever seen, will she be able to recognise rogue scientists? Alongside grappling with the politics and intrigue of spy craft, Minsk is also home to another danger. A serial killer is on the loose killing women, and the killer may have eyes for Melvina.
The combination of spy thriller and serial killer thriller is a new one on me, but it works. The pacing of spy novels can be a little slow as so much is done in the shadows. By having a killer, Black is a novel that is always primed with tension. For the two elements to work, they must both be treated well, and Kent does an impressive job on both.
The serial element of the book may be the starkest, but it is also the more usual. Kent really applies themselves with the spy element of the book and creating a sense of time and place. The author themselves worked as a contractor for the US Department of Defense during the period and this informs the story. You really get the sense of the Soviet Union beginning to fall apart. I am not saying that Kent was in anyway more than a contractor, but the author has easily been able to imagine what would have happened if someone used a similar role as cover for the CIA. In the case of Melvina, she is a secretary for a US team looking to invest, but really works for covert ops.
Black does not aim to be historically accurate but is impressive in designing 1990 Minsk. Other elements of the book are more fanciful but add to the entertainment value of the book. There really were serial killers in the Soviet Union who were able to work far easily than they should have. What is stretching reality is Melvina's powers of observation. Even this is based on an element of truth, so can be forgiven. It is a useful tool for the narrative as it forces Melvina into places she would not normally go. One other reason for the historic setting is that if the book were set today, she would have been replaced with an AI algorithm connected to a network of cameras and images.
Part spy novel, part thriller, Black worked on both levels. With the serial killer storyline and Melvina's powers, I would lean more toward this being a thriller as some spy purists will not enjoy these elements. However, if you are looking for an entertaining and thrilling story set in dark backstreets of the former Soviet Union, this is a cracking thriller.
You may also like