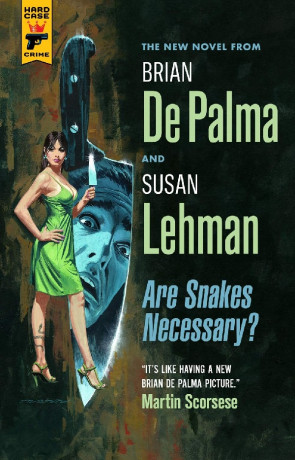 Book details
Are Snakes Necessary

Publisher:

ISBN:

9781789091205

Published:

May 2020

Pages:

239

Format reviewed:

Hardback

Review date:

07/04/2020

Language:

English
The noir genre has an inherent problem, it has the feel of the 1940s and 1950s. You imagine black and white films, men in fedoras and women with cascading red locks. The lack of technology forced the central gumshoe to walk the streets and knock together heads to gather the intel required to solve the crime. Writing a modern noir is not as easy. People seem cannier and you can look up most things on your phone. Modern noir must look elsewhere for its bite – perhaps the political sphere? This is a grubby world and there are loads of skeletons that need to stay buried. Could movie maestro Brian De Palma along with co-author Susan Lehman create a modern noir in his first novel?
Barton Brock is known as a fixer. He is the person that stands behind the politician to make sure the scandals don't get into the news. He has managed to back the right horse in Senator Lee Rogers, a charismatic politician going places but who also has a roving eye. Throw in a naïve young intern, Lothario photographer and femme fatale looking for vengeance and you have all the ingredients for murder.
There is a certain flavour that a good pulp noir novel should provide and Are Snakes Necessary does this from the very start by introducing us to Brock. This is a self-centred man who starts the book thinking about is aching privates after an operation. So far, so pulp. Rather than stick with just the one character, this is an ensemble piece that shares the limelight equally among three or four characters. Other smaller roles are given time to shine as well.
This means that the characters are more rounded than in almost any other noir that I have read. You learn the motivations for a senator, his wife, his intern, his fixer, the women he hired for a con and that women's lover. It is a potent mix but does lead to this being a slow burner. I found the sense of place and characters enthralling enough that I enjoyed the sedate pace. It has the feel of a Robert Altman film as you just followed interesting people around.
The noir elements don't come to fore until the end. The various threads can play out and only come together as the tension rises. A remake of Vertigo plays a part in the end and it is that film that the book takes its style from. There is an enigmatic quality to the book as you follow characters who do not all seem to have a direction. The conclusion shows that De Palma and Lehman did have a destination in mind – the Eiffel Tower.
If you are used to your pulp noir being naked bodies and guns, then Snakes is not quite for you. The book does have these, but it is more about characterisation and story development. It feels like Wag the Dog written by Carl Hiaasen on one of his more acerbic days. To get the most from this book you must enjoy the journey. The duo of authors fills the pages with nice quips and asides that you would expect from the genre. It certainly lacks a little pace in places and perhaps there were one or two too many characters, but there is no denying that this is an accomplished read that will have fans of character development in good cheer.
You may also like