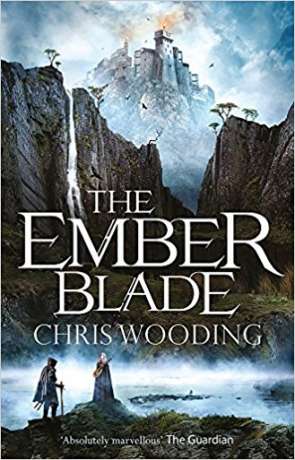 Book details
The Ember Blade

Publisher:

ISBN:

978-1473214842

Published:

September 2018

Pages:

832

Format reviewed:

Paperback

Review date:

27/08/2018

Language:

English
About the author
The Ember Blade is a legendary sword, the sword of kings, and the spark needed to ignite the fires of revolution.
Aren has lived by the rules all his young life, without question. Then his father is executed for treason and his whole world is shattered. Thrown into a prison-mine with his friend Cade, they are doomed to work until they die of exhuastion. That is unless somehow they can break free. But what lies beyond the prison could be even worse, the land long occupied by harsh rulers, while the near-mythical darknights roam the land.
A revolution is brewing, and Aren is being drawn into it, whether he likes it or not.
Chris Wooding has been writing fiction for young-adults and adults for some time now. He's got 16 books in 20 languages and also writes for film and TV. Despite his success I must admit that I haven't read much of his work. I'm now thinking that perhaps I should have read more, at least if The Ember Blade is anything to go by.
The world-building is deep and encompasing. The land of Ossia has been occupied by the Krodans for thirty years, bringing a "peace" that includes replacing the previous culture with that of the Kroda. Theirs is a harsh rule, with any disent from the local population dealt with swiftly and brutally. The story itself isn't going to break any fantasy moulds, Aren the young niave would-be hero getting wrapped up in things that he doesn't understand leading to events that are completely out of his depth.
Having said that, the writing is confident with a strong voice and I loved the style of epic fantasy mixed with a good dashing of grimdark. The story is highly entertaining and the author does a good job of building the tension to what is a real corker of a finale. 
It's been a while since I found a new epic fantasy that I could really get my teeth into, The Ember Blade is just such a book. It is an incredibly rich and vibrant journey that works perfectly as a stand-alone story, but works even better as the promise of something larger. Big, bold and quite brilliant.
Written on 27th August 2018 by Ant .
You may also like