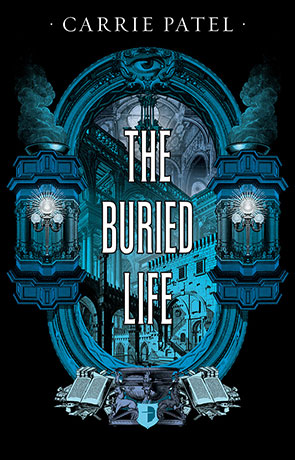 Book details
The Buried Life

Publisher:

ISBN:

978-0857665201

Published:

May 2014

Pages:

336

Format reviewed:

Paperback

Review date:

22/10/2014

Language:

English

Age Range:

15-
From the books description page:
The gaslight and shadows of the underground city of Recoletta hide secrets and lies. When Inspector Liesl Malone investigates the murder of a renowned historian, she finds herself stonewalled by the all-powerful Directorate of Preservation – Recoletta's top-secret historical research facility. 
When a second high-profile murder threatens the very fabric of city society, Malone and her rookie partner Rafe Sundar must tread carefully, lest they fall victim to not only the criminals they seek, but the government which purports to protect them. Knowledge is power, and power must be preserved at all cost…
I was intrigued by The Buried Life's premise—of an underground city in the United States filled with mystery, murder, and bad politics. Books are banned and knowledge is suppressed, reminding me of classics such as Fahrenheit 451. The story's two protagonists, Jane Lin and Malone, are well crafted and believable. Malone, a detective, takes the traditional role of a Sherlock Holmes. This dystopian tale did a great job engaging me in the mystery until the end. I was disappointed in the direction the story took right at its climax; yet it did not leave me in total despair. I felt that a continuation of the series would definitely improve the overarching story.
Filled with paranoia, mystery, and what you would expect from a dystopian tale with a Victorian twist, The Buried Life gets four stars instead of five due to the unsatisfying ending. If another tale is in the works, I will definitely pick it up and read.
You may also like