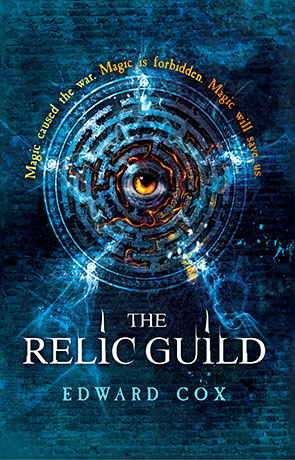 Book details
The Relic Guild

Publisher:

ISBN:

978-1473200296

Published:

September 2014

Pages:

432

Format reviewed:

Hardback

Review date:

18/09/2014

Language:

English

Age Range:

15-
About the author
Sometimes a book comes along that reminds you of the pleasure of being a reader and/or a writer, a book that you start at the right time and cannot fail to admire.
In a measure, The Relic Guild is this kind of book. From the first page, the description crackles and draws you into the story and certainly made me reflect on passages of my own. "Best raise your game, Stroudy boy!" I thought as the image of a wounded wizard making his way to the hidden fastness of his master's lair lit up in my mind.
Edward Cox can write. There's evidence of that on every page of his debut. Occasionally he makes a choice or two I might not make. Initially, there's a bit of familiarity about the characters in how they handle themselves as potent forces in Labrys Town and the Retrospective. As the reader, we feel like we're the only newcomer to the party, but this is quickly set aside as we learn about Clara and her plight. Flashbacks ensue, filling in the previous story of our cast, telling of the previous war and the personal stories within it. At times you wonder if it might have been better to tell this story first, but that would deny The Relic Guild its charm as a fantasy cold case. Gradually, the two timelines become easy to accept, particularly as we speculate over what might have happened to Denton, the kindly mentor of one of our protagonists.
In terms of genre, we find ourselves in a steampunk fantasy where the mechanisms are magically powered and never overburdened with explanation. This is not a story of a possible future, but nor is it filled with too much familiar nostalgia. The world policed by The Relic Guild is no idyll. Instead we wander through dark landscapes unsure of who we should trust.
Cox's use of perspective is refreshingly accurate, sticking with a view in each scene and changing for each new one. The restrictions of this are all part of the fun in exploring the mystery along with the investigators. There is a bit of a fall away from some characters (like Samuel) who is more interesting as a member of the supporting cast than he is when we are inside his head, but that's a reflection of his associates fascination with him and some of the later scenes definitely need his viewpoint.
The characters in general are a strength of this book. Each appears distinct and well sketched through what they do, including the supporting cast who are interrogated, attacked and rescued in equal measure. We have a plethora of heroes and villains, all with their own specialisms, resulting in a variety of interesting conflicts and confrontations.
If there is a weakness to The Relic Guild, it would be in the conclusion. Whilst it is clear this is the fast in a series of books, the story doesn't build as much as it might towards a climax. There is an element of 'cliffhanger' in both the past and present storylines, which feels a little bit jarring as the present guild act on forgotten information from their past to solve the problems of their present. The only ending here is the first phase of one character's 'plan', which in itself is intriguing as it reveals the purpose of a several plot devices set up earlier.
With The Relic Guild, there is a lot to take in, but you never feel overburdened as you learn and puzzle over what will happen next. Pace and action and exposition are there when needed and we get a good look into a different world to the usual. Labrys Town and its surroundings are a different place to most other fantasy novel settings, which means you get a good sense of identity from what is being described. This is an exciting debut from a writer who plainly loves what he has made and I'm looking forward to the sequel already.
You may also like