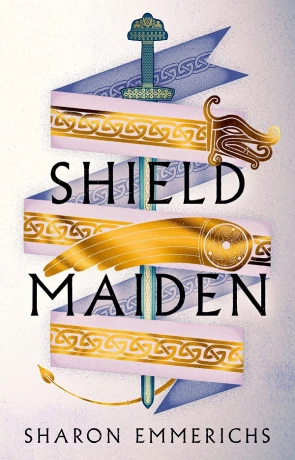 Book details
Shield Maiden

ISBN:

9781804545539

Published:

February 2023

Pages:

394

Format reviewed:

Paperback

Review date:

03/02/2023

Language:

English
The tale is often told from the perspective of the victor, distorting the truth to make them look better. In an epic poem like Beowulf, it all points to one man being the hero, but what if there is more to the story. Shield Maiden by Sharon Emmerichs retells the final part of Beowulf's life from the perspective of his niece. A young woman who wants to become a warrior but looks destined to be married off as a political pawn, but when a dragon begins to awake from a slumber it awakens something inside her too. Perhaps Fryda has inherited some of her uncle's legendary powers?
Fryda lives in relative comfort. Her father is clan leader, and her twin brother looks to follow in his path. Fryda always wished to be a Shield Maiden, but an accident as a child left her with a weakened hand. This has not stopped her training and within the town she is popular for her kindness. Uncle Beowulf is on route to celebrate 50 years of his rule. With him comes clan members from across the kingdoms and their tensions. Meanwhile, a dragon begins to wake from its slumber. Fryda will find her own story when she became a pivotal player in a game of intrigue, betrayal, and dragons.
When you think of Beowulf you think of epic poetry. Shield has epic elements, but it feels a far more centred story that concentrates on Fryda's role in the story. It is a story of fighting against the odds, fighting against her place in the clan and her the perceptions of her disability. She has a warrior's heart and will do what it takes to prove it. Fryda's heart is full of fire, but also love. She has a love for all the people in the town, her aloof father, misguided brother, but also the slaves and workers. Indeed, an important part of the book is Fryda's relationship with the red headed slave Theow. A childhood friendship has grown into something much more in adulthood, but this is a relationship that could never survive.
There are some rich ingredients for Emmerichs to work with, but the author does not fall into melodrama. The romance storyline is an enjoyable part of the story, but there is also political wrangling and action. This is a story based on one of the original sagas, a thousand years before any Game of Thrones. Emmerich makes skilful use of the setting and the characters. You feel transported to a time of Viking clans. Fryda has lived a closeted life and sees the best in others, but through her allies we see that not everything is rosy under the great King Beowulf.
I am not a student of the original text. From what I can tell Shield contains the main beats of the story, but suggests that at this point in his life, Beowulf if not as involved as the poem suggests and that some of the characters were portrayed more sympathetically than they deserve. As someone who has read countless retellings of the Arthurian legend from all different perspectives, I enjoyed Emmerichs taking the essence of Beowulf and making it their own. The character of King Beowulf is present in the story, but rarely at the centre. This is Fryda's tale to tell.
For a story that contains a dragon, it is light on fantasy elements. It is more low fantasy with a realistic setting. It is about the politics first, but when the dragon wakes, an epic battle commences. I enjoyed the fleshing out of Beowulf told from the perspective of another. Fryda is a sympathetic character, and it was great to witness her accent into her own epic poem.
You may also like