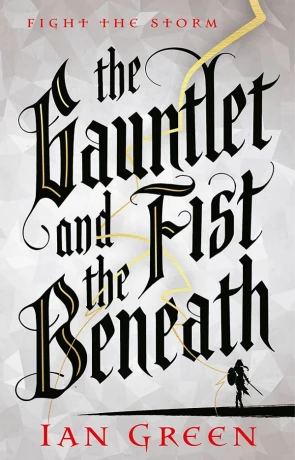 Book details
The Gauntlet and the Fist Beneath

Publisher:

ISBN:

9781800244139

Published:

August 2021

Pages:

432

Format reviewed:

Hardback

Review date:

05/08/2021

Language:

English
People moan about the rain, but I don't always mind it. Many of my best memories of childhood are of sleeping under canvas and listening to the patter of rain, safe in the knowledge that I am all snuggly in my sleeping bag and close to loved ones. These fond memories would have quickly turned to terror had I lived in the Ferron Empire as this rain could have been a Rotstorm. This deadly weather front seeds creatures into the soil that raise up and seek to render flesh from bone. In that case I would have holidayed in a nice safe Castle surrounded by trained Stormguard Commandos.
Flore is a decorated Stormguard veteran, but her days on the front are over. Instead, she has semi-retired to a quiet village in the forest where she raises her daughter alongside Janos, a man she fought alongside who may happen to be the most powerful Mage in the world. Their simple life is shattered when strange orbs begin to appear that kill livestock and kidnap people. When Flore's own daughter is taken, she will stop for nothing to see her safely returned, eyes sharp, blades sharper.
Fantasy fans love the genre, but even the most ardent reader will say that some tropes reoccur. These can provide comfort for a reader, but it is nice to have a new idea pop up. The Gauntlet and the Fist Beneath by Ian Green introduces the idea of the Rotstorms that give the book a far darker and horrific tone than your usual fantasy, even within the Low Fantasy sub-genre. The entire Ferron Empire has lived on edge for decades as the Rotstorms persist, they usually hold to a pattern, but now they are happening in areas of the land that were considered safe. The idea that a goblin or troll could be hidden in any wood fills most of the characters with dread, or at least a sense of unease.
There are also tone of science fiction in the book as the white orbs that flash across the sky remind you of UFOs. Although based in magic, there feels like there is rudimental science involved. Green refuses to just write something fantasy based if it does not fit into the ideas. The author should be commended for adding elements to the fantasy genre that feel fresh and surprising.
The main protagonist is Flore and her drive is the clearest. Any parent will feel for her as she struggles to find her daughter. However, there are also other characters the book follows from the cadets that are under Flore's care, to those that she trained with many years earlier. The varied characters give the reader a sense of the world and you realise that not everyone is a hardened warrior or powerful Mage.
Gauntlet is an exciting and action-packed fantasy novel, but it also works as a good Book 1 in a series. We are introduced to the wider world and most intriguingly we follow a member of the Rust Folk, the distorted humans blamed for the Rotstorms. Green hints at a far larger conversation to be had in later books. Are the Rust Folk evil, or are they victims defending themselves? Why is there no trail for Rust Folk? Could it be that if anyone started to question the war that the reasons behind it may unravel?
Rather than try and make everything simply fantasy based, Green has authored a book that uses the ideas the author wanted. If that meant horror or a touch of science fiction, so be it. Some disturbing and interesting ideas give the book a twist, but it also feels comfortably like a fantasy novel that any fan of the genre can enjoy.
You may also like