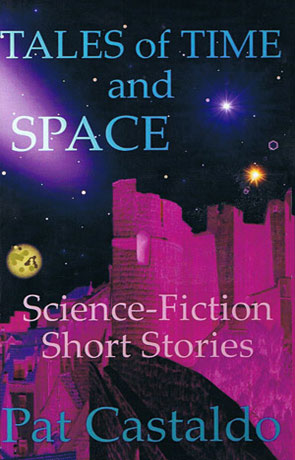 Book details
Tales of Time and Space

Publisher:

ISBN:

Published:

2010

Pages:

186

Format reviewed:

Paperback

Review date:

04/10/2010

Language:

English

Age Range:

N/A
About the author
Tales of Time and Space is a collection of science fiction short stories by Pat Castaldo.

There are 27 short stories contained within this book, all written by Pat Castaldo. The short stories are:

The Immune Man
Dr Barron's Boy
The Pottery method
My other self
the test
the galactic inn
for sale at once
as it should be
the gates of hell
appropriate force & action
the born agains
a twist in time
as viewed for science
problem of a different god
old times
serendipidy on earth
true lover
the citizens examination
we want a boy
the 32 members of the band
the mono plan
justifiable
midnights heretic
the damions' domain
perfection
silence, by #81A3609

There is a lot to be said for the short story, and to get it right does require quite a bit of talent. The ability to get one idea or point across while engaging the reader with engaging protagonists is no easy feat. The short story is also great practice for getting ideas down and many of the big author's short stories are later fleshed out into full novels, novellas or even films.

There is a real mixture of tales in this collection told with an energetic wit and each with it's own unique idea, from time travel to cloning each little story is unique. As with some of the most effective science fiction the story is the focus rather than the technology and Pat Castaldo manages to make his point in very few words.

Some of those short stories that stand out include "The immune man" who has been created as the perfect human immune to illness and disease but destined to a lonely life after a virulent pandemic sweeps across the nation, and "the Gates of hell" that tells the tale of an "awful, terrible place, doing evil in the name of goodness and love beyond the very gates of hell themselves"...

Tales of Time and Space is full to the brim of great ideas told well, each and every story is a little gem and a joy to read, from the acerbic "The Pottery method" to the darkly amusing "serendipity on earth". Highly reccomended.
Written on 4th October 2010 by Ant .
You may also like