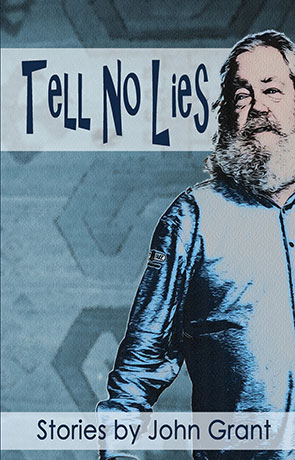 Book details
Tell No Lies

Publisher:

ISBN:

978-0992980931

Published:

December 2014

Pages:

346

Format reviewed:

E Book

Review date:

29/04/2015

Language:

English

Age Range:

15-
This is a story collection that stays in your mind long after you've finished reading, John Grant's selection of writings vary widely across subjects, but return to the theme of duplicity. In many of these stories, the fantasy or science fiction element remains minimal and acts in a constrained role allowing the dilemma to be puzzled through, acting as a twist, or initiating the story theme, a little like the film Sliding Doors, certainly in the case of the opening story, All the Little Gods We Are.
Using the unreal as a device like this doesn't limit Grant in his scope or variety of styles. We have a rodent infestation story redrawn into fantasy, a child's imagination reframing their world into a space adventure and an assortment of characters that seem to have never existed. The intense thought provoking rationalisation of Q, where the science fiction novum acts to reveal the existence of God reveals Grant's subtext. In the story, Grant uses a classic Asimov premise, letting two characters talk out the postulation in a complex weave of science and pseudo-science until their personal agendas clash and take over. However, beneath this comes the linking philosophy of the collection. The idea of seeing the past as a myriad of possibilities in the same way we can look at the future. The only constant being the present we are in and the imprecision of memory or recollection being a device to generate conflict in the clash of different realities.
When taken alone, some of the stories occasionally seem to prioritise character over plot and get a little bogged down. The majority are not racing action fests, but explore the introspective feelings of characters as they strive to come to terms with their encounter of the fantastic. The term magic realism is bandied around a lot, but in this sense, the majority of Grant's protagonists are approaching the fantastic from the real and explore the consequences of the anomaly they have discovered.
However, when taken together, you have a vision made out of the hypothesis and explored in a variety of circumstances.
At times the content strays into adult fare, making this a collection for a mature reader, but that is probably for the best as the intellectual subtexts require thought. I certainly wouldn't have been capable of considering or appreciating them as a teenager. The realistic contexts engage you directly and in every case you leave with something to think about; a collection to guide your mind.
You may also like