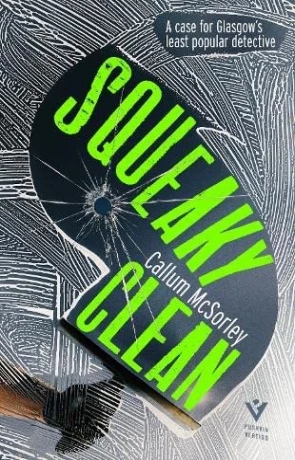 Book details
Squeaky Clean

ISBN:

9781782278368

Published:

March 2023

Pages:

320

Format reviewed:

Paperback

Review date:

13/03/2023

Language:

English
The crime genre comes in many flavours from the cosy murder mystery set in a picturesque English village to a crime noir of 50s Chicago. The setting can be near or far, the tone light or dark, but they all have one thing in common – crime and that crime is often a murder. Callum McSorley has decided to set the novel Squeaky Clean in the British Isles, but this is no Midsommer, this is Glasgow. The Glasgow of drug dealing, prostitution and, as it turns out, hand car washes.
Things are not going well for DI Alison McCoist, not only does she share her name with one of Rangers most famous former players, but she is currently riding the departmental Subs bench after messing up a huge murder case involving local bampot gangster Paulo McGuinn. Her luck may be on the turn when she is given the lowly case of investigating a disturbance at a local car wash. There are links to Paulo. Could he be washing money through the enterprise, or cleaning evidence? One worker, Davey, finds himself in the orbit of Glasgow's gangster culture and just wants out. Will DI McCoist be his savour?
Creating tone in a crime novel is critical. It helps give the reader a sense of what type of book they are embarking on. With a title like Squeaky Clean I was thinking it was going to be a dark comedic novel in the vein of the great Colin Bateman, but whilst Bateman's work can be very dark, in places McSorley's work is midnight black.
The tone is disarmingly light to begin with and that is due to the characters. There is a reality to them. DI McCoist and Davey are the main two characters and they both have complex lives. Some of the mistakes they make are darkly humorous and you get a sense of two flawed people trying to do their best. Neither is perfect, and it is refreshing to read two characters from different sides of the law being selfish. In both cases, their main motivation is trying to dig themselves out of a hole and not out to help others.
The third main player in the novel brings the darkness. Paulo is a wrongun in every sense. Not a small-time gangster, but the man behind a decent chunk of the drug and prostitution trade in Glasgow. A man willing to kill to get what he wants. Some of the scenes that feature Paulo are very bleak and move this book from something that could have been a dark comedy into a gritty crime novel.
The grit works in the book's favour as it was one of my most intense reads in recent years. You begin to fear for the safety of not only Ally and Davey early in the book, but also for their families. This fear only increases as the book moves towards its gripping conclusion. There is a real sense of tension and dread in the book, heightened by the realistically developed characters found at its centre.
The tone of the book may make it too dark for some readers and McGuinn also has a style that can be tricky to follow in places. Some of the characters speak in Glaswegian accents and slang, and McGuinn writes this phonetically. When two or three characters are doing this at once it drags you out of the story for a moment as you must translate in your brain what is happening. Once you get into the rhythm it become easier and it gives the book a sense of place, but I do not find it a helpful tool for suspending your disbelief.
Squeaky is one of the most intense books I have read in a long time. Enjoy is a strange word to use when a book is giving you mild panic, but it certainly a novel that you will pick up and want to read as quickly as possible to see the fate of some brilliantly realised characters. I will certainly look out for more stories from McSorley in the future.
You may also like