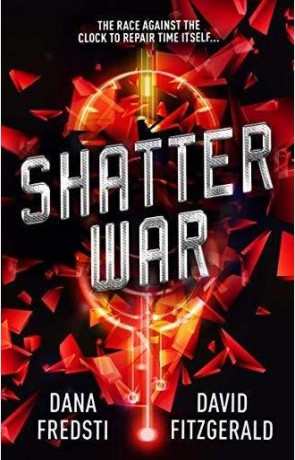 Book details
Shatter War

Series:

Time Shards

Publisher:

ISBN:

978-1785654541

Published:

September 2019

Pages:

496

Format reviewed:

Paperback

Review date:

03/09/2019

Language:

English
Books in the series
What would you do should a sudden cataclysmic event effect the Earth? The answer is that you will probably be dead, but if you are lucky enough to be the protagonist of a book you are likely to have survived. It would be a very short book otherwise. The events in Dana Fredsti and David Fitzgerald's Shatter War have not only torn the Earth asunder, but also time. Step from one time fissure into another and you may be stepping millions of years into the past or the future. If this happened, I would probably stay put and whimper. Thankfully, the crew of The Vanuatu are braver than I and may just be able to reverse the apocalypse.
It was simply known as The Event. An experiment undergone in the future not only destroyed that time, but the entire timeline. The ragtag of survivors upon The Vanuatu lived through the initial days, but now find themselves ripped from their own time. They must listen to the mysterious Merlin and head back to the original location of The Event, only then can they stitch time together once more. But with a fascist from an alternative timeline after them, this may be easier said than done.
There is a science fiction book out there for everyone. You can get anything from staid space operas to rip roaring adventures. Shatter is certainly in the second camp and camp is the operative word as there is so much action and adventure in this book it could make your head spin. The crew of The Vanuatu have been established in the first book in the series, Time Shards, but you do not have to have read that book to get the idea.
A lot of the book is painted in broad strokes, it is here to entertain, not tax your brain. Therefore, the various characters are quite clear; the contemporary, the Celt, the solider, the women adventurer and the quack Doctor. The book is an ensemble piece so you follow several of these characters as they split off and have their own excitements.
If you are a younger reader, you will appreciate more the action that is on offer. Almost every chapter has a creature attack or fight against time Nazis. If you isolate some of these individual set pieces, you get into the flash and bang of it all. It is just that by jumping from character to character and, therefore, action to action, it can get a little samey. I stopped counting how many times our heroes were attacked by various types of animal – it certainly happed enough times for me to notice the pattern.
Shatter is not an intellectual charged novel and should not be read thus. However, there are really nice ideas contained within. The concept of time shattering into shards works well and opens a wealth of storytelling possibilities. Also setting the book along the Nile was genius as it has a rich and long history. It makes sense that we stumble across more displaced persons here than anywhere else on the globe.
There are certainly issues with Shatter. The action is too repetitive and it suffers from second in series-itus i.e. it has no ending. You finish the book and it is almost as it could have been any other chapter. You will need to pick up the third outing to get any sense of closure.
With its broad characters and loud action, Shatter reads like a book for someone that just wants to have fun. I may be a little too old and jaded now, but can still appreciate to the perhaps younger (in age or heart), this is a book they will pick up and bound through. Most likely from animal attack, to animal attack.
You may also like