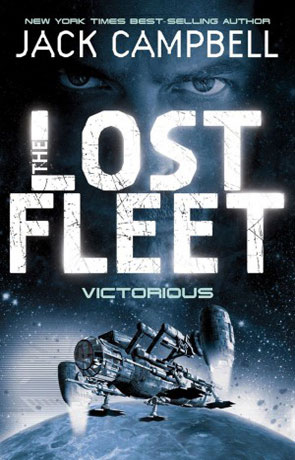 Book details
Lost Fleet: Victorious

Publisher:

ISBN:

9780857681355

Published:

April 2011

Pages:

400

Format reviewed:

Paperback

Review date:

07/06/2011

Language:

English

Age Range:

N/A
About the author
Lost Fleet: Victorious is the sixth and final volume in the Lost Fleet series by Jack Campbell.

Captain "Black Jack" Geary was cryogenically frozen for a hundred years before this final conflict gathered. Upon awakening he finds himself sucked back into a war he thought would long be over, leading a ragtag fleet with an inexperienced crew and a hero worship that he neither desires or accepts. Having fought many battles against the relentless Syndicate, it's finally time to end the war once and for all...

I read this novel having only read the first volume in the series so I can't tell you what volumes 2 to 5 are like, there has clearly been a lot happening between books two and five that I have missed however there is a good level of back filler that enables the reader to grasp whats going on and means you could in theory read this as a stand alone perfectly well (although it does make sense to read the series). This recap at the start of the book can of course have the negative effect of getting in the way though and if i'd read the whole series I would have had to skim through these bits resulting with me losing a little patience with the story.

There are a number of events that are brought to a conclusion here and there is a strong sense of wrapping things up, there isn't however a huge amount of detail about the aliens themselves, which I would have liked to see. The real stars of the show are the space battles, they are just as good as in Dauntless and I still haven't read a book that quite manages to capture space fights is quite the same way - they are just superb but for a concluding volume there doesn't really seem to be enough of them, the final Syndic battle isn't on the grand scale you would expect and is over far too quickly. As such the novel is missing that all important tension that a war reaching a climactic end would have, which is a little dissapointing.

I would have thought that after 6 books our reluctant hero would have shouldered his responsibilities a little more but instead there are still plenty of mentions of how much Black Jack didn't want to command, which again if I'd read through 6 books mentioning this same thing would have grated on the nerves a little. What does work very well though is the way that Jack manages to create a more democratic approach to the command, something that current military command organisations could learn from and the descriptions of the incompetent space admirals being completely out-maneuvered by an old fashioned and somewhat reluctant military leader are among the highlights of the novel.

Then there are some mysterious aliens, presumably which have been encountered in the previous books but these seem somewhat underplayed, it does however create a nice angle for a sequel series of books.

Lost Fleet: Victorious still has the edge with incredible, descriptive and well thought out space battles but doesn't quite manage to work as an end to a series, while there does seem to be many plot elements brought to a conclusion it lacks the power I would have expected and hoped for.
Written on 7th June 2011 by Ant .
You may also like