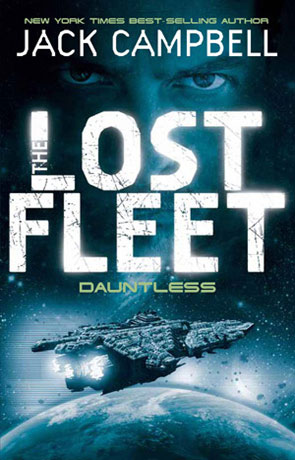 Book details
Lost Fleet: Dauntless

Publisher:

ISBN:

9780857681300

Published:

January 2011

Pages:

320

Format reviewed:

Paperback

Review date:

22/02/2011

Language:

English

Age Range:

N/A
About the author
Lost Fleet: Dauntless is the first in the military science fiction series by Jack Campbell.

The Alliance has been fighting a losing battle with it's deadly enemy - the Syndic for over a century. Now its primary fleet is stranded deep in enemy territory. Their only hope is Captain John "Black Jack" Geary – a man who was thought dead a hundred years ago. Emerging from hibernation he finds himself thrust into the middle of the fight to save humanity, and also live up to a life as a living legend.

Lost fleet is a very accurate military science fiction novel that manages to capture the essence of how space combat really works without making it sound boring. The way that the fight scenes are scripted is just incredible and I have never read space battles written quite so well. The prose is clean, crisp and quite distinctive with strong characterisation.

The use of minimal back story means that this is very much a character led story and the majority of that focused on "Captain Black Jack". There is a great sense of a highly trained captain caught out of his time, with the Empire he remembers having pretty much fallen apart in the 100 year gap. The story itself is very simple and there aren't many surprises with the plot but that is actually part of it's charm as everything is directed towards a world weary commander navigation a large fleet through enemy systems to try and get everyone home in one piece.

With many space opera or military science fiction novels it is very easy to forget just how big space is, as the late Douglas Adams once said: "Space is big. You just won't believe how vastly, hugely, mind- bogglingly big it is. I mean, you may think it's a long way down the road to the chemist's, but that's just peanuts to space." I haven't read a novel that manages to get this message across quite as well as Lost Fleet: Dauntless does, it's just superbly imagined.

As the plot is so straightforward it also moves pretty sharpish too, bounding along like a labrador going after it's favorite stick. The last 1/3 of the novel becomes impossible to resist, as I found out sitting in a long neglected and cold bath, shriveled like a prune and glued to the massive battle at the end, and yes I do read in the bath, on the train, driving a car (no I don't really drive a car while reading that would just be dangerous... it's a bus ;-) ). I can also testify that it is quite literally nail biting at the end, as the ends of my slightly sore fingers are reminding me.

Lost Fleet: Dauntless isn't a complicated exposition on the nature of reality, nor does it have a massively complicated plot that will have you guessing to the end. It's a ingeniously crafted tale of a space fleet trying to get home against terrible odds and it's got one of the best space battles you will find anywhere.
Written on 22nd February 2011 by Ant .
You may also like