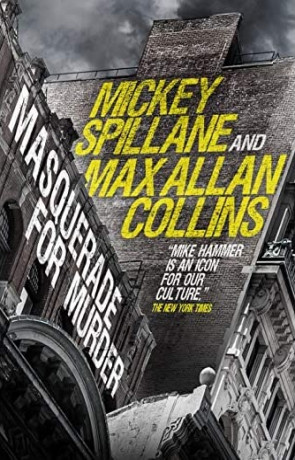 Book details
Masquerade for Murder

Series:

Mike Hammer

Publisher:

ISBN:

9781785655562

Published:

April 2020

Pages:

220

Format reviewed:

Hardback

Review date:

24/04/2020

Language:

English
Books in the series
My partner and I went through a stage of watching only noir films. Many of them felt the same, but some stood out. The French films had an effortless style, Barbara Stanwyck was always amazing, and one film was just a little bit insane. That film was Kiss Me Deadly, a Mike Hammer film based on the books by Mike Spillane. Hammer has all the trademarks of a noir antihero, but even within this pool of talent he is edgy. Quick with a quip and quick with his gun. Has age mellowed the fellow? Masquerade for Murder suggests at first that it might have, but Hammer's true nature will always prevail.
Mike Hammer is older and indeed wiser. The halcyon days of the 50s are over and he now works as a Private Eye in a New York dominated by Wall Street and yuppies. The people may be different, but murder never changes. When Hammer witnesses a hit and run, something feels a little off to him. He discovers that the victim survived and was the son of a rich stockbroker. Investigating this yuppie's past soon leads to two dead people and Hammer does not believe in coincidences.
The task of converting Mike Spillane's notes has fallen into the very able hands of Max Allan Collins, himself a noted crime writer. Collins had the tricky task of keeping an authentic voice whilst writing about Hammer in his later years. The very idea of Hammer in the 80s feels odd, but it works.
The character of Hammer brings an old-fashioned noir to the setting and while the people of New York have moved on, the PI still has a reputation with some. As Hammer is a little bit older and a little bit slower, he relies on his experience and intellect a more. That is not to say he does not get into scrapes; it is just that he is not always great at coming out on top anymore.
The central mystery is an interesting one as it is a little more straight forward than many noir stories. Hammer is sure he knows who the killer is and it is more about dogged pursuit than red herrings and surprises. This leads to some great time spent with Hammer's inner thoughts. He knows who the killer is, but how can he prove it? On the way he hits some great 80s clichés including nightclubs, martial arts, stunt men and Wall Street. The fact that the killer is able to inflict some strange injury onto their victim is great fun and leads Hammer down some interesting paths.
For large parts of the book it feels like maybe Hammer has mellowed. He is dogged and rude, but not too violent and his psychotic side is nowhere to see. That is until the end when it comes straight back to the fore. This is Jack Reacher levels of insanity, brushed off as the bad guys getting what they deserved. We would probably call it the work of a mad man, but thankfully that mad man is on our side.
There is no doubt that Hammer is a yesterday's man, but Spillane and Collins play with this. The 80s setting does not quite have the same feel to it as the 50s and the book cannot capture the great noirs of that era. What it does do is create a nicely paced crime thriller that has some old-fashioned ideas, but also a distinct edge. The quips are present, as is the violence. This is crime like it used to be and in today's market it feels like a nice difference.
You may also like