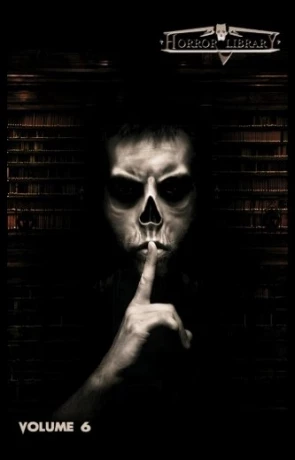 Book details
Horror Library: Volume 6

Publisher:

Dark Moon Books

ISBN:

978-1949491357

Published:

July 2021

Pages:

379

Format reviewed:

E-Book

Review date:

06/09/2021

Language:

English
Horror Library is a successful series of horror anthologies which thanks to Dark Moon Books is now finally available in Kindle format.
The latest book in the series is a huge volume assembling twenty-seven tales selected by the new editor Eric J Guignard, who also introduces the single stories with appropriate comments.
Let me tell you right away that the anthology is a real cornucopia for horror lovers, due to the high quality of most of the included stories and to the variety of themes exploring all the possible shades horror can take.
I will simply focus on my own favorite tales, to give you a taste of what is waiting for you if you're smart enough to secure a copy of the book.
"The Night Truck" by Stephanie Bedwell-Grime is a scary, atmospheric story where a mysterious truck passing by during the Halloween night and a failure of the electric power concur to trigger an agonizing fear in a woman alone in her house while "The Plumber" by Bentley Little is an excellent tale featuring a peculiar plumber whose performances and advises become a living nightmare for a quiet married couple.
Jeffrey Ford contributes the disquieting "Five Pointed Spell", featuring a lonesome writer living in the middle of nowhere and having several encounters with the weird and the dark. "The Red-Eye to Boston" by John M Floyd is a splendid piece of horror with a slightly humorous side, taking place in the toilet of an airplane while the solid, quite enjoyable "Hear The Eagle Scream" by Edward M Erdelac, is a deceiving tale where an old rancher finds help to manage his property and his cows, but things are not the way they seem.
In the short, but delightful " The H-Train" by JG Faherty, a man whose soul is already in the Devil's hands is cajoled to sign a contract as the driver of a hell bound train. In the superb, tense "Better You Believe" by Carole Johnstone a small group of climbers returning from Himalaya's Annapurna mountain have to face a dangerous, extremely difficult and terrifying descent.
For those interested a Best of Horror LIbrary covering volumes 1 to 5, is also available as an e-book by the same publisher.
Written on 6th September 2021 by Mario Guslandi.
You may also like