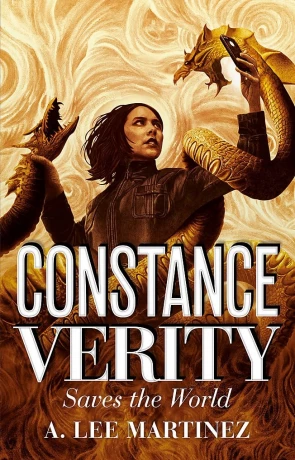 Book details
Constance Verity Saves the World

Series:

Book 2 of Constance Verity

ISBN:

9781529408133

Published:

January 2022

Pages:

385

Format reviewed:

Paperback

Review date:

07/02/2022

Language:

English
Books in the series
Constance Verity Destroys the Universe
About the author
Constance Verity is anything but normal, blessed as a child to live an adventurous life, this may sound exciting, but the reality is much different. Now in her 30s, she is fed up with having to save the world all the time and just wants some normal downtime. By Constance Verity Saves the World, some normality seems achievable. She has just moved in with her accountant boyfriend and her best friend is becoming a reliable sidekick. Just as it all starts to come together for Constance, her powers are dwindling. If her luck runs out, she is unlikely to survive fighting a Cthulhutian creature rising from the depths, or a power mad Lady Peril bent on revenge.
The The Last Adventure of Constance Verity in A. Lee Martinez's Constance Verity series established the characters of Constance, Tia, Byron, Hiro, and others. Constance's life is crazy and by book's end there is some stability. This is a dangerous place for an adventure series to be in, as stability is not always the most exciting state to be in. Thankfully, this is also a comedic series and there is a lot of enjoyment to be had from placing exceptional people in a mundane environment.
Even Constance's base normality is different from yours and mine. Moving into a new block of flats should be straightforward, but with aliens, ex-mad scientists, and a vampire as neighbours, less so. The amusing thing is that all these people/creatures/things just all want to have a good relationship and get on with life. Turns out that if they are there for one another, good neighbours, become good friends. Even if some of them are undead.
Save the World feels like a more structured book than the first outing as it has a solid centre; the relationships of Constance with Byron, and Tia with Hiro. Suddenly, Constance has more to worry about than herself, but she goes about protecting her loved ones in the wrong way. Alienating them from the dangers of her life, just pushes them away. By the end of this outing the relationship between all these characters has evolved even more.
To add spice is the shadow of an old flame, Larry, Constance's first relationship. This being Constance's world, Larry is not just a normal bloke, but the son of Lady Peril, the fifth most dangerous person in the world. His mother has just died, leaving him the family business. He needs Constance's help, but is he a chip off the old evil nemesis block or a genuinely nice person?
The universe of Constance Verity works because Martinez never loses the sight of the characters in the book. There may be ninjas or a clone Hitler, but the most important thing is the relationships. The blasé way that even Tia and Byron treat the exceptional makes for some very amusing moments as frustrated evil robots are undermined when trying to reveal their schemes. Book two benefits from the relationships being firmer, the more normal that Constance's life gets, the greater the contrast between what she wants and what she gets. The balance between action and dry wit is well done makes this a series one of the most amusing I have read in a long time.
You may also like