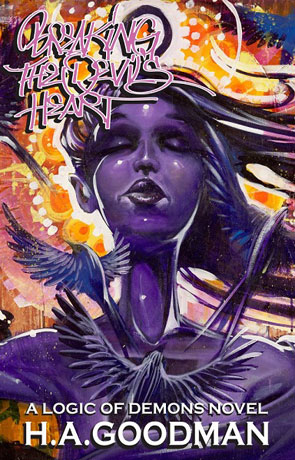 Book details
Breaking the Devil's Heart

Publisher:

ISBN:

9781432790790

Published:

May 2012

Pages:

352

Format reviewed:

Hardback

Review date:

27/08/2012

Language:

English

Age Range:

N/A
About the author
Breaking the Devil's Heart continues the ideas presented in the previous novel Logic of Demons. This time we follow the young couple Stewart and Layla as they spy on the Devil and try and figure out how to beat "the formula", bankrupt Satan's underground Company and save Heaven from civil war.
The novel takes another look into the afterlife, from how heaven and hell are structured through to just what God and the Devil's minions get up to, it's a very different journey than most books attempt. Told in an uncluttered manner and offering lucid arguments about the human conscience, religion and the afterlife, breaking the Devil's Heart is an intriguing book that is quite hard to really define or categorise.
There are of course other novels that write about a similar subject matter and it's often one that can cause a great deal of controversy, especially in the US however Goodman's approach works very well by keeping the narrative quite light-hearted and positive. This manages to highlight the ideas presented here in quite an effective manner and offers a fairly unique perspective on the whole idea of heaven and hell. The author manages to avoid placing too much personal bias and the result is a well balanced theme that doesn't shove the ideas in your fact and encourages the reader to make their own judgements.
The book is mostly narrated in the first person from the perspective of Stewart and this viewpoint helps to ground the story. Characterisation is handled effectively although there is little real back story and the development of the protagonists seems a little muted.
While there is some cross-over from the first novel there isn't any reason at all why Breaking the Devil's Heart can't be read as a stand alone novel without having read Logic of Demons, it's an interesting read and one that offers some rich ideas. Perfect for anyone who wants to read about how different the afterlife could be.
Written on 27th August 2012 by Ant .
You may also like