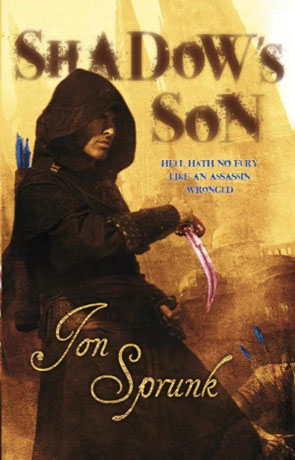 Book details
Shadows Son

Publisher:

ISBN:

9780575096028

Published:

July 2010

Pages:

304

Format reviewed:

Paperback

Review date:

13/06/2011

Language:

English

Age Range:

N/A
In the holy city of Othir treachery and corruption are rife, the ideal breeding ground for any freelance assassins with no scruples. Caim is one of the best, living on the edge of a blade he has carved out an impeccable reputation but when he reluctantly takes on a job at very short notice he finds himself in the middle of a dastardly plot with himself as the primary target.

Pitted against crooked lawmen, rival killers and the darkest kinds of sorcery, it's going to take more than luck if he's to get through this alive. When his path leads him from the hazardous back streets of Othir and into the highest halls of power, will instincts and weapons alone really be enough? If Caim is really going to unravel the plot which has snared him, to unmask a conspiracy at the heart of the empire, he will have to finally claim his birthright as the Shadow's Son . . .

It would be fair to say that there isn't really anything new in Shadow's Son, a medieval setting with corrupt religious leaders and dark assassins along with a protagonist that has a dark past and walks a fine line between good and evil. To create a great book doesn't always require the author to do something new though - creating a good example of the existing or more importantly just creating a great story is enough and the quality of the prose here really does make the story shine while more than making up for the lack of originality.

The characters themselves are well described and very likeable, if a little simplistic and Caim himself is very entertaining. The interplay between Caim and Kit is well thought out and helps to keep the reader guessing as to just who and what she is. The story is well laid out and moves at a quick pace and even though there are aren't many surprises the writing is such that it is just nice to read, the pages flow effortlessly, the plot is seamless and the suspense tangible.

I for one love the anti-hero type rogue and Caim is a exemplary example of such a protagonist with his reluctant shadow magic and strange sense of honour - subconsciously rebelling against the injustices while consciously trying to fight his own dark impulses.

The world building is kept to a bare minimum and played out in little tit-bits as the novel progresses which keeps the pace constant and the reader eager to learn more. The main plot is fairly neatly wrapped up but there is a much larger subplot that builds in the background and leads the way for more novels in the series.

I know Shadow's Son is predictable, rehashing tried and tested ideas and the end is a bit corny but the author is a true storyteller and it shows, with tight descriptive dialogue. I personally loved it, there is a great atmosphere with a certain je ne se qua that for a fan of fantasy fiction I found quite compelling, the action is well paced and above all it's a very entertaining read, recommended.
Written on 13th June 2011 by Ant .
You may also like