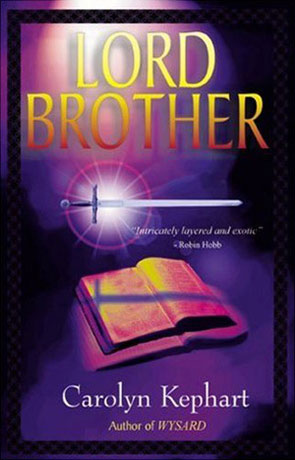 Book details
Lord Brother

Publisher:

ISBN:

Published:

2001

Pages:

185

Format reviewed:

Paperback

Review date:

04/11/2002

Language:

English

Age Range:

N/A
About the author
Lord Brother is the second part of a fantasy tale by Carolyn Kephart.

Lord Brother is the much needed follow up to Kepharts debut novel Wysard. As you may remember the first books ended without warning, leaving the story hanging with no prior warning of any kind. I've talked with Kephart about this and she has apologized, so I'll leave it at that.

Ryel still has a world to save from the spirit of Dagar who is dead set on world domination. Dagar wants Ryels body, but as Ryels doesn't have any intention of leaving it, Dagar makes do with the body of weaker souled individuals. Dagar manages to make Ryels life quite interesting, even in the bodies of these lesser characters. Ryel fights, saves friends, goes to school to become a better wizard, fights, saves more friends, doesn't fight, fights, falls in and out of love. Not quite in that order, but all in a couple of hundred pages. Kephard keeps a nice pace, never loosing a step and alway adding something new to the mix. I've two minor problems with this book. The first problem is with the characters. They tend to meld together a bit - when they weren't having their bodies stolen, they probably have a brother or sister who looks quite a bit like them and acts in much the same way. This easily get a bit confusing. Luckily this kind of gets resolved by my second problem: The stories seem a bit like small sketches stitched together, with no real connections between them. Yes, Ryel is in all of them and Dagar is in most of them (in different guises), but there's no real connection between them. I would have liked Ryel take a bit more charge, instead of just following circumstance from battle to battle. Luckily this kind of negates my first problem as you really don't need to keep track of the characters, except for Ryel the current incarnation of Dagar.

Even with these problems Kephart manages to do a bit better than the first half of this story, her writing is just as good and she manages to throw in some much needed background, on her world, between all the fighting.
Written on 4th November 2002 by TC .
You may also like