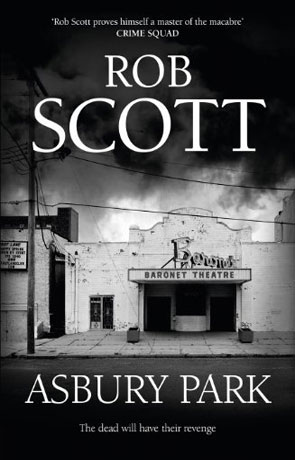 Book details
Asbury Park

Publisher:

ISBN:

9780575093898

Published:

March 2012

Pages:

640

Format reviewed:

Paperback

Review date:

09/05/2012

Language:

English

Age Range:

N/A
Ten weeks ago Homicide Detective Sailor Doyle worked on his first ever solo case, a horrific double murder in a remote area of Virginia that almost finished him for good.

Now he's recuperating from the physical wounds and mental trauma, the near death experience acting as a focus to overcome his other issues and exercise his personal demons - an increasing dependency on prescription drugs and the re-building of a broken marriage after his extra marital affair - events that have been described in the author's previous novel 15 miles.

After a particular severe withdrawn seizure while out walking in the early hours he seeks respite at a beach front motel and meets Mark "Moses" Stillman, a retired minor league baseball player whose wife and daughter drowned in the ocean off Belmar years earlier.

Fate then arranges for a body to be dumped at his feet from the 6th floor balcony and as if that wasn't enough, the body is that of Sailor's high school history teacher. The last thing he needs is to get embroiled with the local police especially when it looks like it's a murder rather than a suicide. After the second death in a very public place any hope of staying under the radar while recuperating are well and truly dashed, as if that wasn't enough he's starting to see things again too.

Asbury Park offers something very different to the average reader, part police procedural, part thriller and even part horror the novel is very much one of a kind. This is re-enforced by the depiction of the protagonist himself, a somewhat raw and honest account of his struggles with drug dependency, a failing marriage (due to his infidelity) along with the toll his job has taken on his physical and mental state. It's quite rare that we get to read about someone who is as far removed from a "hero" as Sailor is, in other words someone who is quite as ordinary.

The backdrop of New Jersey echoes this realism too, with organised crime, drugs and social issues there is plenty to ground the story and so when the fantastic or horrific does happen it seems all the more powerful, all the more shocking.

The writing is of exceptional quality and despite my reservations about the protagonist and the whole issue of drugs I found myself pretty much captivated. I still don't like Sailor (and probably never will), the author does a great job of building understanding and sympathy for him but not having read 15 miles I don't have a lot of sympathy for him having got into the state he has and cheating on your Wife while she's pregnant with your child is about as low as you can get. I do find it difficult to find compassion for those with such a drug addiction too (I've seen too many people ruin their lives in reality to find much sympathy). It is however a testament to the authors talents that despite this strong dislike (at times I felt like telling him to get over himself) I still enjoyed the novel immensely and it highlights the fact that you don't have to like the protagonist to enjoy the story. I was still pretty much hooked most of the way through and I would still recommend the book to most people.

The grim reality angle can come across as a little too dark in places however, a little too depressing but luckily the interplay between Sailor and his family (especially that of his son) really does prevent the book spiraling down that deep dark hole and acts as an effective counterpoint to all the grittiness and reality. There is just enough of the supernatural and horror to make the most of this dark edge and while there is some police procedural stuff, there isn't enough to affect the pace, which is pretty stable through-out.

The plot is also above reproach, a fantastic murder mystery that contains enough twists, turns, red herrings and sudden events to keep even those with the attention span of a goldfish entertained.

Asbury Park is just totally different to most books I have read, dazzlingly brilliant narrative combines with a stark reality that's bent by subtle horror and the edge of a thriller. A superb and highly memorable read.
Written on 9th May 2012 by Ant .
You may also like