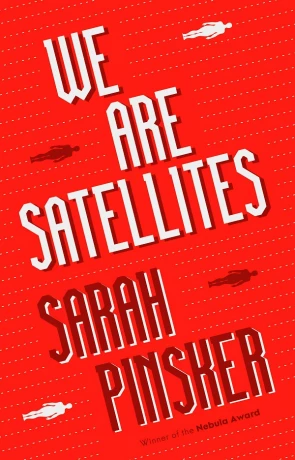 Book details
We Are Satellites

Publisher:

ISBN:

9781984802606

Published:

May 2021

Pages:

368

Format reviewed:

Hardback

Review date:

18/05/2021

Language:

English
Of the many things that the pandemic has taught us, it is that we can work well online. I have completed projects online with never meeting my team or the stakeholders in person. What it has also taught me us is about Digital Poverty. Although I may have been happy to work in the kitchen, what about those who cannot afford a laptop or have no broadband? These people have been left behind for no fault of their own. There is also another group; those that do not want to work from home, this is their private space. We Are Satellites by Sarah Pinsker is a book about many things; brain surgery, family, but it is also about those that are left behind.
It started off as a fad, but it soon became apparent that Pilots are needed if you want to get ahead. All it requires is a little brain surgery and you will be rewired to be able to concentrate on several things at once. Evidence has proven that school results improve and productivity at work is better, but what about those left behind? Val and Julie have a quandary. David, their son wants a Pilot for his schoolwork, but their daughter, Sophie, can never have one as she has epilepsy. Do they trust this new technology and what will become of a society made of haves and have nots?
Speculative Fiction is often written as if a major event has already occurred, but Satellites takes place over several years, whilst the quiet revolution is taking place. The story starts as Val, a teacher, notices some of her students have blue lights embedded in their skulls. This is the Pilot. Soon, the richer students are all getting them, giving them even more of an advantage in life. What starts off as fashion, soon becomes a 'necessity.' David wants one, Julie thinks it would help her at work, but both Val and Sophie are against them.
Over the following years we get a science fiction story wrapped up in a family drama. The invention of the Pilot will influence each member of the family as some see their careers soaring, while others lag. This exploration of discrimination is very well done. Pinsker has used her speculative device to explore current issues. Swap out the Pilot for race, gender or disability and you have similar ideas of discrimination.
What makes Satellites an intelligent book is that it is balanced. Technology is not inherently evil and there are compelling arguments that the Pilots have only added benefits to life. What many fail to see is what happens to those who are not compatible. They are discriminated against and left behind, but some of them would still get the Pilot if they could. Imagine the current vaccine rollout. What happens to those who are not compatible with it? Are they to self-isolate forever? Society can only progress if it remembers to bring everyone along on the ride.
Like usual, I am focussed on some of the themes in the book and not the characters and story. This is wrong of me as Satellites is a wonderful and heartfelt story about a family. You join them when the children are still relatively young and by book's end, they are all adults. The tension in the novel is as much about the family dynamics as it is the validity of the Pilot system. The family members stand on opposing sides of the argument, but the bonds that tie will always bring them back together. It was lovely to see a normal family dealing with innovative technology in a way that many other families would.
We Are Satellites is a book that poses interesting questions and does it with great poise itself. Wonderfully written with a realistic feeling family at the centre. The idea of elective brain surgery and devices that enhance the mind of some, but may damage that of others, does not overbalance the book, but is used as a tool to tell the story of a family. This is a terrific way of approaching speculative fiction, the central premise should enhance the characters and story, not dominate them.
You may also like