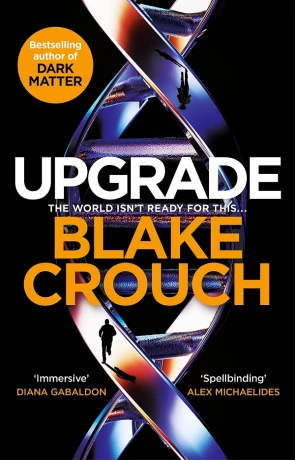 Book details
Upgrade

ISBN:

9781529045352

Published:

July 2022

Pages:

340

Format reviewed:

Paperback

Review date:

14/07/2022

Language:

English
It starts off sensibly with tweaking a DNA strand here or there to prevent a hereditary illness. Who could argue against that? However, it is not long before people realise that they can use the same tools to make sure that a child has their father's eye colour and Mother's hair. Why even bother picking and choosing from what the parents have when you can tweak the DNA to do as you wish? You can upgrade your child to have the best of everything. In Blake Crouch's Upgrade you can even change your DNA as an adult. You could even infect someone else and force their DNA to change.
Logan Ramsey is an agent for the newly formed GPA, an agency assigned to deal with genetic crimes. A routine raid has unforeseen consequences when a trap is triggered. Suddenly Ramsey finds himself infected with a virus that could be doing anything to his DNA. He starts to be able to concentrate better, remember more and exercise for longer. Is Ramsey changing? Could it have anything to do with his deceased mother and her infamous work into gene manipulation?
Science Fiction comes in all forms, and I do enjoy a good cyber thriller. Upgrade is set in the near future, but it has a lot in common with the fact-based science fiction of the likes of Michael Crichton. This is a future that could happen, were humans have unlocked the secrets of DNA and then made it illegal to manipulate it. A vibrant underground market has formed to sell hybrid creatures or cures for disease. Lab designed viruses are a danger to all humankind as they could be designed to kill or alter their victims from within.
Upgrade is at its base a great thriller. An everyman, even with his extraordinary past, is caught up in events that he cannot control. Ramsey is forced towards danger and away from his family. This being sci fi means that as Ramsey alters, so does the book. His evolution allows him to take more control of his actions and start to fight back. The character of Ramsey at the start of this book is very different from that at the end.
The science in the book feels like it could happen, giving the story a gritty feel to it. This is our world sometime soon. Crouch does an impressive job of easing the world building into the story with the use of future technology, but fundamentally the people are like us.
A final element that gives the book deeper layers is family. There is a mystery about Ramsey's past and the relationship he had with his mother. An accident of her doing led to the formation of the GPA and banning of genetic science. Ramsey must live under this cloud. We also meet his sister, the recluse. The relationship between the siblings and how they view humanity plays a vital role in the book and could have consequences that effect the whole human race.
With its fast pace and thrills, Upgrade is a highly enjoyable slice of cyber action. It is accessible to all types of crime and thriller readers, but also has an interesting take on science that will appeal to the science fiction fan. With its broad appeal, this is the type of book you can see selling well and becoming a popular film in the near future.
You may also like