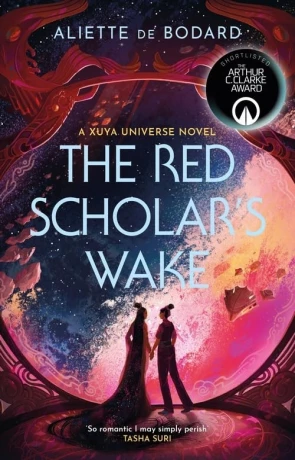 Book details
The Red Scholar's Wake

Series:

A Xuya Universe Novel

ISBN:

9781399601375

Published:

August 2023

Pages:

291

Format reviewed:

Paperback

Review date:

08/11/2023

Language:

English
Books in the series
About the author
Love is love and that is truer in science fiction than any other genre as you can fall in love with anyone or anything. Someone of the same species, an alien or even a spaceship. With AI advancing who is to say that one day their personality will not appeal, couple that to an avatar they can create in any guise and the power of a spaceship, what is not to like? The Red Scholar's Wake by Aliette de Bodard is a book about politics and epic space battles, but it is also one of burgeoning love.
When Xich Si is captured by pirates her prospects do not look good. She can look forward to a life of servitude or becoming a pirate. Either way, she will never see her daughter again. Xich Si does have one talent that makes her stand out, her ability to work with bots. This captures the eye of the newly widowed Rice Fish, an intelligence and a spaceship. Rice Fish needs someone to help her with her bots and Xich Si needs protection. A marriage of convenience is arranged to cement their alliance, but with the politics of the Red Banner pirates being in flux, the relationship may have to evolve for them both to survive.
Epic space operas are a foundation of the science fiction genre, and the best examples are classics. However, they are often meaty tomes that cover hundreds of pages and often several books. Red Scholar can be read as a standalone story, although it is left open for more adventures, and it is a more approachable length. De Bodard achieves this by focussing on a single-story strand. The epic format will usually have several character arcs that bounce back and forth, only interacting on occasion. This is a book all about Xich Si and Rice Fish.
This focus means that we get an intense story about two entities finding one another. The fact that one of them is a ship is interesting, but fundamentally does not change the art of love. This is a love story, told with the backdrop of epic events. Rice Fish finds itself in the very centre of the politics of the Red Banner, its former wife was the Red Scholar themselves, the name given to the pirate leader. Will Rice Fish be voted in to replace her, or do the other pirate factions plan to change tactics?
For my tastes, the book leans a little heavily into the emotion. It feels like mere days that Xich Si and Rice Fish are making impulsive decisions based on emotions. Love can make you do funny things, but I imagine that in the instance of pirate politics it will probably end up with you being dead if you do not stay level headed. De Bodard does build an intense world where pirates do not expect to die in bed and the life of a merchant is not much better. In this universe of perpetual peril, you can see people falling in love fast and hard. You do so today, because tomorrow may be too late.
There is a passion and fire that pushes the characters and storyline of Red Scholar forwards at a pace. There is plenty of character development but also action set pieces to keep the less emotionally interested reading. The love story works well because de Bodard creates a solid foundation for it to rest upon. A world of corrupt officials, blood thirsty space pirates and ships with the capacity to love and learn. If you are in the mood for a more heartfelt space epic, you may just fall in love with this title.
You may also like