Slaine Dragontamer
By Pat Mills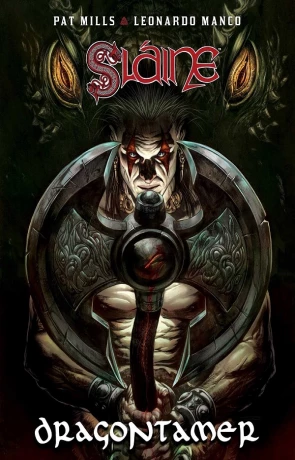 Book details
Slaine Dragontamer

Publisher:

ISBN:

9781781089538

Published:

September 2021

Pages:

Format reviewed:

E-Book

Review date:

29/09/2021

Language:

English
I love 2000AD, it is a fantastic serial comic that is filled with some of my favourite characters. Judge Dredd is omnipresent, but there are other characters that I picture when I think of opening a new issue; ABC Warriors, Rogue Trooper and of course, Slaine. Slaine felt a little different as it was not the science fiction the magazine normally lent on, instead it was fantasy. Thankfully, this fantasy is filtered through the warped minds over at 2000AD and has all the ultraviolence you could wish for. Slaine: Dragontamer is one of the final outings for the antihero. Can he bring down the reign of Emperor Brutus before all Celts are destroyed?
Emperor Brutus and his army of Trojan Warriors are destined to conquer the entire world, but this won't stop Slaine from giving them a bloody nose. Brutus may have the magic of his Gods, but Slaine has that of the Druids. Which of these antient powers will prove the strongest? Slaine will not only have to rely on his great strength and skill, but also on unlikely allies. The dispossessed` and the shunned will be part of his army and they will have to be brave as they go up against an army of dragons.
The world of Slaine is a rich one and packed full of lore. I have read quite a few of the runs and even I don't always know what is going on. What is always clear is that Slaine is an absolute bad ass and hands out axe fulls of death to his enemies. This volume is written by Pat Mills, one of the originators of the series and illustrated by Leonardo Manco. Obviously Mills knows his Slaine as the dialogue is rich with information about the character and the world that surrounds him. This is great for fans of the character as they are getting the full Slaine experience, but there is also a coherence to the tale for people who have only dabbled like myself. The grievances between the Celts and the Trojans are clear.
One of the best things about Slaine is the possibility of great illustrations and Manco delivers on an almost unprecedented scale. The pages are glorious, full of menace and violence, but also remaining fantasy based. The book is violent, and pages are often coated in crimson, yet Manco is still able to catch the reader's eye so that we follow the story.
Dragontamer purports to be the final adventure for Slaine after forty years of creations, but the tale, at least in this volume, remains open enough for it to continue. The volume also comes with a couple of shorter classic stories that give a further glimpse into Slaine. This is a series that would make even Conan blush and although this may be the last ever Slaine story, it works brilliantly as an introduction to the character as you just want to find out how it got to his point.
Written on 29th September 2021 by Sam Tyler .
You may also like