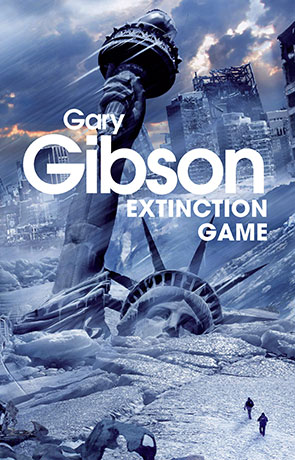 Book details
Extinction Game

Publisher:

ISBN:

978-0230772700

Published:

September 2014

Pages:

400

Format reviewed:

Hardback

Review date:

16/12/2014

Language:

English

Age Range:

N/A
Extinction Game is a clever novel that mixes a post-apocalyptic setting with parallel worlds and a thrilling plot. It all begins with Jerry Beche who believes he is the only survivor following a viral pandemic that sweeps the globe.
While eking out an existence alone in the quiet wilderness that surrounds his home, one day he notices footprints in the snow and before long finds himself "rescued". He is taken to an Island on an alternative Earth which seems populated with survivors of other parallel Earths that have seen cataclysmic disaster in one form or another.
The organisers of Jerry's rescue (known as "The Authority") send these people (known collectively as the pathfinders) on missions to gather technology, data and supplies from alternate Earths - all of which have befallen a catastrophic event - at least catastrophic for humanity that is.
Being a fan of post-apocalyptic fiction even I admit that there is an abundance of such novels and it's refreshing to see one done differently, here Gibson describes not just one type of apocalypse but many different ways in which the Earth rejects it's plague of people. Each is described vividly and often evokes a sense of wonder in it's imaginative depiction.
This is set against the none-too-friendly Authority and their seemingly dark end-game along with a dynamic group of survivors the interplay of which is richly rewarding. I loved the way the author manages to build each main character with their own lives and loves and losses, each a broken figure in different ways. Even more so the sense of mystery about who the Authority are, what they are up to and more importantly why so many Earths seem to have an extinction level events.
The prose is vibrant with a real sense of momentum and the author manages to reach a nice equilibrium between character development and story. It's a novel that is effortlessly easy to read too - it's a very forgiving book and should appeal to those who are unfamiliar with heavy science fiction. It's entirely accessible and reads very much like a thriller - a good one at that.
The result is a rewarding novel full to brimming with ideas, with a great story and an ever so easy to read style. I really do hope we see more.
Written on 16th December 2014 by Ant .
You may also like