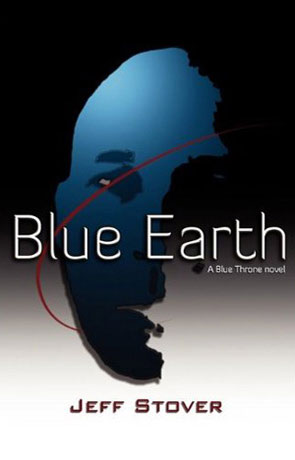 Book details
Blue Earth

Publisher:

ISBN:

9780980000000

Published:

February 2010

Pages:

326

Format reviewed:

Paperback

Review date:

26/10/2010

Language:

English

Age Range:

N/A
Blue Earth is a science fiction novel and the début of author Jeff Stover.

The Thrones are a group of biological "mistakes", genetic experiments that have resulted in something more or less than human. They have inspired the writings of new religious texts that many now regard as sacred. Ruth Long, a college professor is obsessed with the Thrones, determined to prove this new religious wave false.

She soon discovers that the cost of unveiling the Thrones is greater than she could have ever expected. As her hunt for the truth intensifies, Ruth must choose between a life of sacrifice and danger which may be a one way journey, or her old life of comfort and safety.

Jamal Battle, an ex army thug is indentured to capture and silence the Thrones, he begins systematically tracking them down along with their secrets. At his disposal are the full resources of a megalomaniacal plutocrat who regards the Thrones as his own personal "property". Sparing no expense or care for the damage he causes Jamal attempts to reinvent himself with fire, force, and death.

As he struggles for sanity, Jamal's desperation collides with Ruth's will to find her own identity. The result is a race to reveal the Thrones as divine saviors, or to hide their existence behind social hysteria and erase them forever.

Blue Earth is quite an accomplished novel, well laid out with very strong characterisation, it was somewhat of a surprise to see a début novel of this calibre. The story is set sometime in the near future, and has a minimal amount of back story, concentrating more on fleshing out the characters and developing the plot. The pace is pretty fast and there's enough twist and turns to keep the interest going. The protagonist and antagonist are both richly detailed and really fun to read, full of character and wit.

The story itself blends the latest technological development in genetics (which seems very plausible) and mixes this with a theological perspective, ultimately dealing with the human condition. There is virtually no techno-babble and the book reads more like a phsycological thriller than the average scifi novel. The book doesn't appear to have been edited as finely as some, which gives it a slightly raw edge, the prose itself is both rich and creative, well structured and almost poetic in a few places.

There is a really good story here, a fast paced tale of cat and mouse played out with style and creativity. Recommended.
Written on 26th October 2010 by Ant .
You may also like