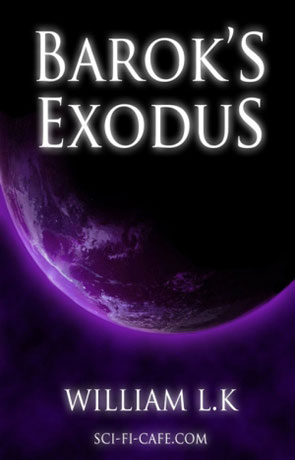 Book details
Barok's Exodus

Series:

The Stritonoly Chronicles

Publisher:

ISBN:

Published:

January 2011

Pages:

Format reviewed:

E Book

Review date:

31/08/2011

Language:

English

Age Range:

N/A
Books in the series
About the author
Six years have passed since the greatest storm the planet of Stritonoly has ever seen, six years since that night of treachery. The Princess Becki has not been idle during that time, learning all she can about her powers and how they could be used against her captives, something that she has been waiting for all this time.

Setting this second volume some time after the first is a smart move as it means that you could read this as a stand alone novel if you really wanted to, although I personally recommend reading Eye of the Storm as you do then get a fuller immersion into the world of Stritonoly.

There is a much bigger focus on the character of Barok in this book (as you can imagine from the title) and we see him struggle with his personal beliefs and desire to be free (and his people) from slavery. There is a greater emphasis placed on descriptive narrative and we learn a lot more about the world in general as the focus moves from the citadel. To offset this additional world-building there is a greater emphasis placed on moving the story forward whenever possible and to me made Barok's Exodus a stronger book.

Princess Becki acts as a counterpoint to the Acidel (the race of diminutive creatures that Barok is a member of) and her 6 years of incarceration don't seem to have done much for her sanity, or her dislike of Barok's people. She spent much of the time creating works of art that help fill the coffers of the Citadel while feeding her festering hatred at the same time.

There a number interesting twists to the plot and the story itself is fairly imaginative however there are still issues with the characterisation which stands out as a weak point in the novel. The over-riding sense of fantasy is also still prevalent and this is a fantasy novel rather than a science fiction one (in a similar way that Star Wars is indeed fantasy). The ending is much more open ended than the previous book and there are clear signs of things being set up for a bigger story arc in the next instalment.

I found myself warming to this novel much more easily than it's predecessor, the use of the Acidel race is more effective and creates a unique style, while a confident voice also emerges from the prose, recommended.
Written on 31st August 2011 by Ant .
You may also like