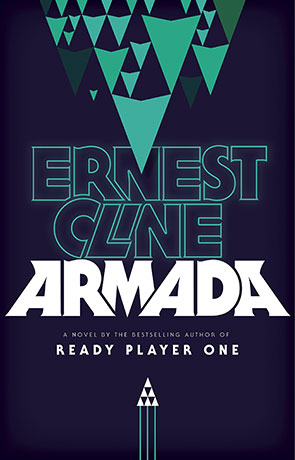 Book details
Armada

Publisher:

ISBN:

978-1780893044

Published:

July 2015

Pages:

384

Format reviewed:

Hardback

Review date:

03/08/2015

Language:

English

Age Range:

13-
About the author
I've been a gamer and science fiction fan since the very first home computers become popular. From the days of the ZX81 and even before that with the Intellivision and Atari 2600. I've been playing games ever since. Like the authors first novel, Armada seems to speak to the older gamers out there.
The story follows Zack, who, like me has a passion for books and games. He dreams of a day when some impossible, world-altering event will whisk him off to an adventure in space. He does know the difference between fantasy and reality, or at least he thinks he does right up to the point he see's the flying saucer.
If you've ever watched the classic 80's film The Last Starfighter (and if you haven't, why not?) then you will know the general plot of Armada. Zack (along with other boys and girls) has been secretly trained to fight a desperate war against an implacable foe by way of a videogame. Everything in that game is a replica of the real world.
The book is filled with pop-culture references that make you feel right at home from the very start. The authors narrative flair helps here too, it feels personable, relaxed and ever so friendly. Its a nice feeling, a celebration of all that game-playing.
I'm sure that some will compare the book to Enders Game, after all on the surface they could be mistaken for siblings, or at the very least close cousins. Comparison is however superficial, and comparison is more deservedly drawn to that previously mentioned film The Last Starfighter. The author even makes note of these similarities in the book. I love this nod to the classic film and the book takes the story and moves it into the 21st Century without losing that wonderfully innocent 80's feel. This merger of post and pre 21st Century is reflected in the story and characters.
It's a coming of age novel, one that should appeal equally to younger and older. Of course I wouldn't recommend this as highly to those who don't play computer games but even those who don't should find plenty to like with the warm prose and confident story.
The pace is swift and story engaging although at times it does feel a little derivative and predictable. Its a book of two halves, the first exploring the backstory and developing the characters, the second dealing with the alien menace. While you could say this about many books, with Armada its so obvious that you can actually see the switch.
Even so, Armada is a highly rewarding journey, it's a celebration of gaming past and present, wrapped around a solid (if predictable) story that pays homage to an under-rated classic in cinematic history.
Thoroughly enjoyable fiction.
Written on 3rd August 2015 by Ant .
You may also like