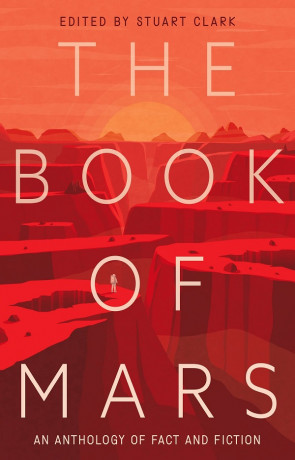 Book details
The Book of Mars

ISBN:

9781801109291

Published:

November 2022

Pages:

896

Format reviewed:

Hardback

Review date:

10/11/2022

Language:

English
I am a student of history. In that I love to learn about history, but I did a degree in the subject. What I find the most fascinating is how history evolves – an event happened and that will never change, but how we precisive it does. The fashions and knowledge of the present day impacts how we look at history. The Book of Mars edited by Stuart Clark, is a collection of fact and fiction about the Red Planet taken from two hundred years of history. Not only do you get fascinating stories and facts, but also the chance to see how the world's perception of Mars has changed over the years.
Mars, the Red Planet. One of the most visible elements in our sky that has spoken to humans for millennia. The Greek and Romans named Gods after it, the Victorians considered whether it hosted life and in the present day we send Rovers to touch its surface. Book of Mars is a book that is packed with short stories, book chapters, and journal articles all about the planet. They range from the late 19th Century to present day. It contains not only an eclectic mix of information, but also plays out the history of Mars science.
Clark has split the anthology into sections that cover Dreams, Observations, Exploring, Fears, Life, and Colonising Mars. The format is chronological, so the earliest works open each section. This means that over the book you start back in time and move to the present and then back in time again as each new section begins anew. You begin to see a pattern and it is fascinating, almost a meta story that threads throughout the works. To understand how we wrote about Mars, you need to understand where the science was at the time each item was written. The discovery of canals, or much later the face, not only impacted the science, but also the science fiction. Canals means water? Water means life? Life means war? As we learned more, Mars is seen as a desolate place, but that does not stop the writers of fiction. What would happen if we colonised and started to terraform?
I enjoyed both the fictional and non-fictional elements to Clark's collection. It is an intelligent balance. Some of the science can be dry, but it is fascinating. A lot of the early fiction is also impressive with the amount of intelligent science it uses. The book is almost 1000 pages and feels like a literature review as it covers so much, and elements start to reflect on one another. If that is not enough of a literature review for you, there is an actual literature review of Water on Mars included!
Book of Mars is a tome that you can read from cover to cover, but also works well as something to dip in and out of. Each segment and article works on its own, but you do get a sense of the shared history if you read several in a row. I loved coming across interesting information or a fun story. The book contains classic authors like Wells and Bradbury, but also acts as a useful introduction to new writers. I was particularly taken by Randall Garrett's The Man Who Hated Mars and will look for more work by the author. Overall, this is an intelligent anthology that is both academic, but also entertaining. It would work well for someone looking for a meaty subject to get into, without it being too heavy on the academic language.
You may also like