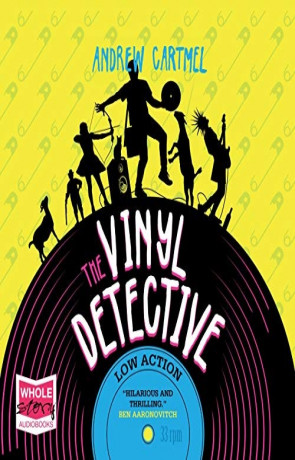 Book details
Low Action

Series:

Vinyl Detective

Publisher:

W.F. Howes Ltd

ISBN:

9781528897761

Published:

August 2020

Pages:

Format reviewed:

Audio Book

Review date:

06/08/2020

Language:

English
Books in the series
Punk was a short-lived musical genre and if you have listened to some of it you can probably tell why. It was raw, edgy and loud, but most of the songs were not that great and it was more about attitude than being able to sing. The songs that you may like from that genre may be post-Punk or New Wave, when some of the musicians from Punk went on to make some great songs. I am no fan of Punk but that does not mean that I want to kill any of the artists that made it. Someone hates The Blue Tits enough to want their former lead guitarist dead. What was her biggest sin? Maybe it was the fact that she could play.
To look at her now and you can tell that Helene Hilditch is an artist of some kind from the way that she carries herself but you would not imagine that she was once known as Howlin' Hellbitch, the lead guitarist from the ephemeral Punk band, The Blue Tits. Years later and it seems that Helen's past is catching up with her, three failed attempts at her life has led her to The Vinyl Detective. He is tasked with finding a copy of the rare first pressing of their debut album but really this is an excuse to meet all the old crew and see who has murder in mind.
The Vinyl Detective is now an established series and you can tell by Low Action, Andrew Cartmel is getting a great tune out of the characters. The basic premise of the series has been that when he is searching for a record, he gets embroiled in a murder plot. Making an amateur discover this type of case becomes less organic over time but thankfully Cartmel has decided that at this time people in the know visit the Vinyl Detective knowing that he actually investigates murder. The Detective reluctantly realises that to supplement his income this has to be the norm.
With this in mind enter Helene Hilditch. Her story leads directly into a Punk story of a young group of privately educated girls setting up a band and making a success for themselves after a rather fruity live interview on TV. Anyone who knows their Punk history will be aware that this story chimes with real events. Cartmel does a great job of interweaving the fictionalised Blue Tits with the real Punk scene. I am not sure that the era of Punk works with the timeline of The Vinyl Detective, but I can forgo that for a fun book.
And Low Action is just that, fun. This book is part of that strange genre that the Brits do so well – the cosy murder mystery. The stakes could not be higher, yet this book feels light and fun. The interaction between the characters is very amusing and this is certainly enhanced by the audio work of Finlay Robertson. There is a slow build to the story as we are introduced to the various suspects. This gives the listener the chance to develop their own opinions who may be behind the crimes. Like any good mystery there are also a few twists and action scenes that will keep you on your toes.
Low Action is a traditional crime story told well in an amusing manner both in Cartmel's written word and Robertson's narration. The audio book is a great option as Robertson has a clear presentation and uses various voices to distinguish the different characters. He has also noted the tempo of some of the scenes as the humour and timing comes across from the page. This book will have you chuckling out loud.
You may also like