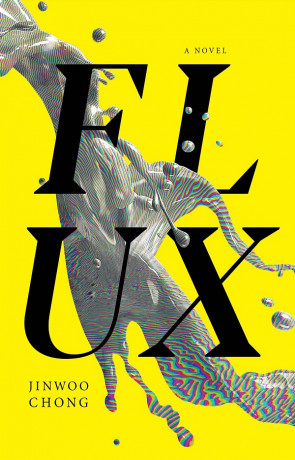 Book details
Flux

Publisher:

Melville House

ISBN:

9781685890353

Published:

March 2023

Pages:

352

Format reviewed:

Paperback

Review date:

23/03/2023

Language:

English
Time travel is one of the most complex and difficult concepts to write in fiction. On the screen you can use visuals as shorthand to try and explain what on Earth is going on, but in fiction you are required to explain it all, or not. There is a choice. Do you go down the route of hard science and try to explain the concepts or instead be more speculative and keep things a mystery. In Jinwoo Chong's Flux we go down the what-just-happened route when we meet Bo, Brandon and Blue. All different people or are they all the same?
Brandon drifts through life working for one of the last physical magazines still in print so it comes as no surprise that when his entire department loses their jobs, even if Brandon is sleeping with the boss. To top things off he falls down a lift shaft on the way out. His luck is about to turn when he opens his eyes to discover a man offering him a new job at a tech start up. All Brandon must do is sign a waiver and let the company experiment on him.
Time travel is hard to write. At what point do you make it obvious to the reader that it is happening? If you wait until later in the book you will need to sprinkle clues throughout the earlier part of the book so that a reader can go back and find them on a second read. Chong sidesteps some of this by writing the book from three different perspectives and three different characters.
Brandon is the main protagonist as he sits in the middle, but Bo and Blue also play their part. Bo is a child who witnesses the tragic death of their mother and then must deal with the fallout with the remaining family members. Blue is in middle age; without a voice he is given the ability to talk for a brief time so that he can be interviewed about a famous fraud twenty years ago about a tech startup built on lies. The startup that Brandon has just signed a contract with.
After reading the book the threads between the three characters becomes more apparent than when you are immersed in it. The book has a surreal edge to it, throughout it flips into a failed 80s detective show. What comes through are the characters, especially Brandon. This is an interesting character as he is not that nice. Brandon is selfish and listless, and that is refreshing to read. He does not deserve what happens to him, but you can see why it did as he never engages in his environment to be aware of what is going on. As the book progresses, we begin to understand what made Brandon who he is, we see him from the past, present and the future.
Flux felt like the arthouse cinema of time travel novels. Chong does not pander to the reader and makes you work out what might be happening, but when you realise that events are more linked than you first assumed, it starts to come together. For all the thought of time travel and consciousness in the novel, its strength is the character of Brandon and the events he must go through. One for fans of the higher literature science fiction.
You may also like