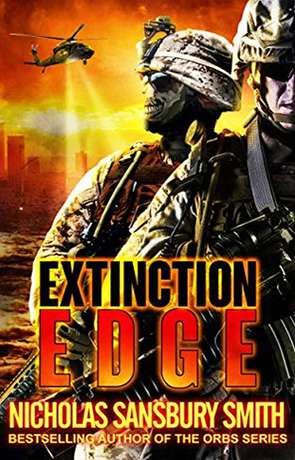 Book details
Extinction Edge

Series:

The Extinction Cycle

Publisher:

ISBN:

978-1508595731

Published:

March 2015

Pages:

371

Format reviewed:

Paperback

Review date:

27/10/2015

Language:

English

Age Range:

18-
Books in the series
About the author
Nicholas Sansbury Smith's Extinction Edge, book two in The Extinction Cycle, is a whirl-wind of action and rapid evolution! The stakes have never been higher since the Hemorrhage virus first infected humankind. Now, the transition from modern society to a surviving-society pits Beckham and his Ghost Team against their deadliest enemy yet. Can science still save the human race?
It is amazing that this series was not grabbed by a major publisher. I've read my fair share of science fiction, most with a strong military core (see my reviews for Aliens and Doom). For a series that pushes its characters through a brutal environment and constantly at military odds with hordes of Variants, the characters internally develop with both honesty and sincerity despite suffering extreme external conflict. A convincing example is Dr. Lovato's transition from a fragile natured woman into a survival-hardened scientist, all without losing the charm that impassioned Beckham.
While every good critique does provide some criticism, like mt review of the first book, this review also lacks any substantial negative remarks. Perhaps this reader is far too enthralled by the nonstop action and caught up in curiosity about how humankind could possibly survive such an aggressive virus. This is not a "slow zombie, caution, don't get infected world." Instead, the rate that the infected change—and what they are becoming—really creates excitement at the thought that this could possibly be a better story than The Walking Dead comics and TV show.
The Extinction Cycle is a planned five book series, which book three is already read and currently under review—while book four is sitting in my inbox waiting patiently to be read.
You may also like