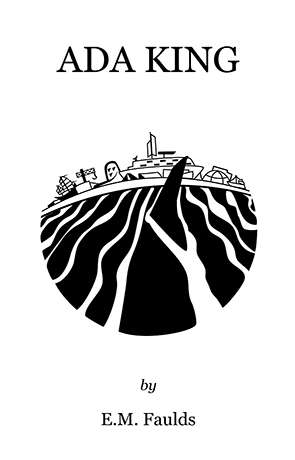 Book details
Ada King

Publisher:

ISBN:

B013I9QYPO

Published:

August 2015

Pages:

Format reviewed:

E Book

Review date:

16/10/2015

Language:

English

Age Range:

N/A
Cyberpunk has always concerned itself with the transformational relationship of man and machine. Times and technology changes, but the contemporary cyberpunk story is still concerned with this and Ada King by E. M. Faulds wholeheartedly embraces that essence whilst invoking new dystopian themes and utilising future projections of the latest technology.
We first meet Ada, our title character, in school. The structure of this educational establishment immediately conveys the despotic nature of the country Ada lives in. We are in Atwood and Orwell territory here, the literary dystopia of the powerless, where an individual might aspire to changing their fate, but embarks on a path towards tragic conformity.
Ada's unconscious rebellion lies with her imaginary friends, a butterfly, a dog and an ugly man who appear and disappear in tense moments of her life.
Faulds juxtaposes King's childhood with the fate of Ikatere, a young fisherman caught up in the aftermath of an annexation. Ikatere's story is initially more conventional than Ada's but offers us a world context outside of her claustrophobic existence and a social class metric as well. Many of the terms such as 'middle bloc' are interesting to note when used in the different conversations, granting the reader a much more rounded view of this detailed dystopia.
However, the book really starts to click into gear when Ikatere goes into exile and joins the people of Raft City. He discovers the Liberty Via Force; a hidden submarine with artificial intelligence and nanobiotic weaponry. Ada King falls foul of the regime she is trapped in and tries to flee. Ikatere and Liberty Via Force rescue her. She comes to Raft City with her knowledge of wireless electricity and begins work on creating the mindfields, an incredible blend of mind controlled reality and virtual reality.
Here we move into the second half of the novel, entitled Posthuman and this is the point where Faulds' story takes flight. The concept of the mindfields and how it is invented, used and refined by the characters of the novel provides a vivid projection of current technology into the future. By introducing technology that links the real with the virtual and making the virtual world one we can control with our imagination, Faulds grants her characters godlike ability. The ways in which people can manipulate their environment remain constrained and limited by the novum, but the possibility and power of it gradually expands. In this, we see echoes of Hannu Rajaniemi's Jean Le Flambeur series. Ada King could easily slot into Rajaniemi's fiction as a prequel, just as Hawking's work made sense of Einstein, the witricity of Raft City links beautifully to the amazing future universe of gogols and q-dots in the mind of the reader. Whilst this is unintentional, it does provide a mutual validation of these posthuman ideas and the mind expanding concept of reality transition.
Faulds' writing is accessible and strong throughout. She has no scruples about sacrificing her cast when needed, but ensures there are distinct arcs of self-discovery in our journey towards a networked post human world. There are some cleverly hidden plot elements right until the end and whilst the third act does at times feel like a sequence of achievements and revelations, it is well worth mining for its last crumbs of knowledge.
I would truly love to see Faulds and Rajaniemi collaborate on future projects. On the evidence of their current work, they are complimentary creative minds.
You may also like