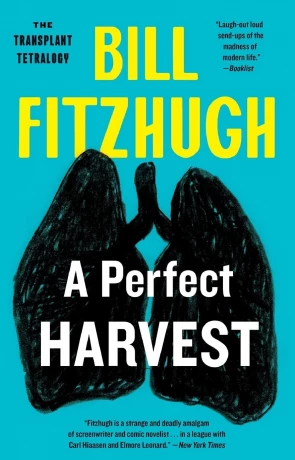 Book details
A Perfect Harvest

Series:

The Transplant Tetralogy

Publisher:

Farrago

ISBN:

9781788423304

Published:

August 2021

Pages:

320

Format reviewed:

E-Book

Review date:

13/08/2021

Language:

English
Books in the series
If you don't laugh, you will cry. One way that people cope with bleakness is to try and find the funny things in life. Recent lockdowns would have been a lot harder for me without my family to keep me smiling. Diagnoses of terminal illness is no laughing matter, but you still find people who will keep positive, but how do you write this in fiction? Are you able to balance the tone between lightness and the subject matter? Bill Fitzhugh has tackled this balance before and does so again in The Perfect Harvest, but does it have the perfect balance?
When Miguel Padilla leaves his doctor's office it is not with one terminal diagnosis, but two. Alongside a degenerative disease, Miguel also has an aggressive brain tumour. His lifespan will now be months and not years. With a newfound sense of mortality Miguel decides to leave this Earth having achieved something, saving the lives of others through the perfect harvest of eight major organs. However, US law states that he cannot have assisted death and donate organs. Miguel's last fight will be to see justice done and also.... help write a musical about the last weeks of his life.
During the 90s I read a lot of crime fiction mixed with comedy. There is something wonderful about a book pitched perfectly if the tone is pitch black. Bill Fitzhugh was one of these authors and Perfect Harvest returns to one of the author's favourite topics, organ donation. Fitzhugh uses comedy and crime to reveal a lot about a hidden industry and seems a little seedy when you shine a light on it. A monopoly that does not pay the families, but companies get paid by the hospital. You could argue that the private sector has an interest in keeping replacement organs at a rarity to drive up prices.
Unlike the previous books in the Transplant Tetralogy, Perfect is not a crime novel, but is still about the law. The story revolves around the court procedures, think John Grisham with laughs. This does allow Fitzhugh to inform the reader about various philosophical principles around organs – are they property, do we have the right to kill ourselves by donating organs? Academically, these are interested avenues, but are a little dry. The book lacks the pressure and thrills of a cracking crime thread.
There is an internet troll who bubbles away in the background, coming to the fore towards the end, but that role is periphery and although Fitzhugh tries to use the role to add suspense, it does not. Instead, the other major part of the book is the comedic aspect of a musical being made of Miguel's last weeks. This comes from the narrator of the book, an untrustworthy theatre producer who somehow manages to get buzz for the show. Throughout proceedings he reveals song for the upcoming musical; these are not good and not funny. They are also not bad enough to be funny. This comedic side plot just does not work.
With a comedic element that falls flat and a threat that does not threaten, A Perfect Harvest relies solely on its exploration of organ donation culture in the US. This is interesting, if a little dry. It would make for a good non-fiction book, but Fitzhugh fails to capture the right balance this time around. This is a shame as the author has previously written fantastic moral pieces that are action packed, funny and thought provoking. This book is not that, it is a miss fire for the author, but should not stop readers from trying the first two books in the series.
You may also like