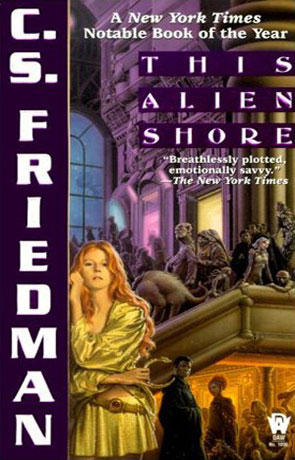 Book details
This Alien Shore

Publisher:

ISBN:

Published:

1998

Pages:

576

Format reviewed:

Paperback

Review date:

16/02/2003

Language:

English

Age Range:

N/A
This Alien Shore is sort of a corporate mystery novel set in the far future, written by C S Friedman. The reader knows about as much of what is going on as the main character. She learns something new, you learn something new. Despite not having any big fire-works ending, this book is good. Very good.

What makes this book so good is the authors writing style. True, many others have brought fabulous life to a book simply by the wonderfull descriptions of thier worlds. Right away you will see this in C.S. Friedman's work. But she takes it a step further, reaching almost to that level of realism in Tolkien's Lord Of The Rings Trilogy. She shines so much light on the inner workings of many cultures, how they live, and their technology, that you might forget about the story for how wonderfull the world, Friedman created, is. Everything is very innovative, from the ships and different colonies to the small little headsets one uses to jack their brain directly into a piece of hardware.

The story, in it's own right, is a good mystery. Filled with corporate sabotage, a deadly computer super virus created by an unkown hacker, and of course Jamisia our main character, who doesn't know why she is being hunted or by whom. Much of the story is unkown, which is why I say it's mainly a mystery novel. This is a good novel that is easy to read, keeps you interested, and teases you 'till the end, making you want more.
Written on 16th February 2003 by TC .
You may also like