The Drowning Earth
By Jack D Mclean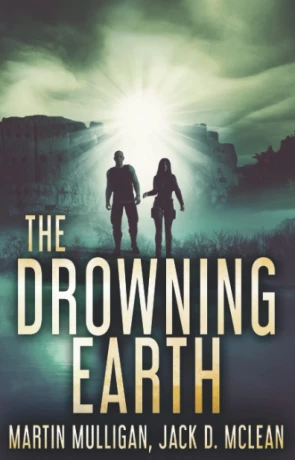 Book details
The Drowning Earth

ISBN:

9798404098006

Published:

January 2022

Pages:

348

Format reviewed:

Paperback

Review date:

01/03/2022

Language:

English
I think the pessimistic among us see a future of raised water levels and the UK losing plenty of its coastal land and anything close to our rivers. However, even the most resigned will not have imagined the world that Martin Mulligan and Jack D. McLean have created in The Drowning Earth. Not only are large parts of the UK now a bog or underwater, but there are cannibal factions out to make lamps from your skin. If that was not bad enough the enlarged mink or pikes will eat you for a meal. I think it is about time you turned that light off no one is using.
Zack lives a reclusive life in a secure location somewhere in the drowned Home Counties. His former days of a hit man are well behind him and now he lives in constant fear of all the dangers that surround him. When Bob visits, Zacks 'safe' life is thrown into chaos. Bob's son has gone missing, and he requires Zack's particular set of skills to find him. Skills such as weapons craft, sabotage, and the willingness to kill all that get in his way.
Any book that states, "This book contains graphic violence and is not suitable for readers under the age of 18," is bound to be fun. And really appeal to any reader under 18! It is not long into the book that you discover it has a vein of ultra-violence, flesh rendering pikes and beheadings show the way. The book is dark and violent but is not to a point of excess. Any fan of darker genre fair such as Squid Game, John Wick or 2000 AD will be fine. In fact, they will lap it up.
The character of Zack is an entertaining one who is both naïve in places, but also a hardened killer. Much of his planning consists of turning up and seeing what happens. This reflects the structure of the book as Zack's adventures seem to control him as much as he does them. The good thing is that these adventures are great fun. They include attacks by mutant animals and a side plot to butcher the staff of a macabre organ harvesting hospital.
The main meat of the story arrives towards the middle when Zack and some new allies decide to infiltrate the base of the Kwanon, the most powerful tribe in the region. These Kwanon believe in a God that demands human sacrifice and as a by-product they produce a range of bespoke goods made from human bodies. Nice. The setup is pure Mad Max and Mulligan and McLean treat it so. How should Zack treat a town full of cannibal killers? He should execute very last mother fudger in the room.
The second part of Drowning is great fun, if you like you books visceral, and action packed. There is an old-fashioned feel to the narrative as it is driven by the action. It brought to mind the likes of John Carter of Mars, if John Carter had the habit of beheading three people at a time and carrying their heads with him from a burning city. Even the hierarchy of the Kwanon is entertaining, they take the worst excesses of Nero or Caligula and make them look like your pleasant everyday dictatorial nutters. This society is so messed up that you side with Zach, no matter how extreme his solutions. The reader witnesses the last days of this dystopian Sodom, but it was on its last legs anyway, how many of your neighbours can you butcher before you start to run out of sacrificial victims?
The Drowning Earth is a dark, violent, and unpleasant book, but it is fun! This is pulp fiction that takes elements of horror, action, and science fiction to take the reader on a grisly ride. The book works because Zach is a great anti-hero who goes up against an enemy far worse than he is. At times Zach does not seem to have a single idea of what he is doing, but that makes for an entertaining, if anarchic, read.
You may also like