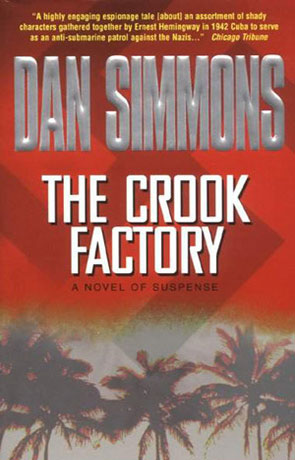 Book details
The Crook Factory

Publisher:

ISBN:

Published:

1999

Pages:

592

Format reviewed:

Paperback

Review date:

06/02/2002

Language:

English

Age Range:

N/A
About the author
The Crook Factory is a novel by the award winning author, Dan Simmons.

During World War II Ernest Hemingway apparently asked for permission, from the American government, to run a spy ring from his home in Cuba and got it. In steps special agent Joe Lucas. J. Edgar Hoover (chief of the FBI at the time) want Lucas to join Hemingways spy ring to keep an eye on things. Not so much as to help, but to spy on Hemingway who Hoover suspects of being a communist.

Hemingways spy ring, which he calls The Crook Factory, actually manages to stumble on something interesting and soon things get a lot more serious than anybody could have guessed. I must admit that I know nothing about Hemingway and that I haven't read anything of his, so I can't judge how truly or fairly Simmons portraits him, but he manages to paint a picture of a man who is at once hard to define and grasp and on the other hand a caricature of the eternal author. He is a rock star before Rock'n'Roll was invented. I like him and I believed in him.

Joe Lucas is something else. His is about as cool, silent and professional when it comes to spying, as Hemingway is warm, boisterous and amateurish. It is Lucas who tell that story of his meeting with the author and the time he lived with him on Cuba. This brings a good balance to the story. Most of the story is fairly fast paced and there's lots of action in this story, it's probably what most people would call a spy-thriller. The writing is some of the best from Simmons, who again shows that he can work in just about any genre he wants to and do it better than most.

P.S. This isn't Science Fiction, but Simmons is well loved by many science fiction fans for his Hyperion saga.
Written on 6th February 2002 by TC .
You may also like