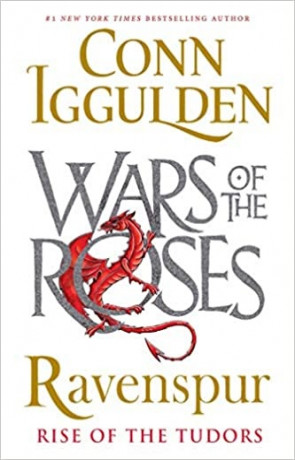 Book details
Ravenspur

Series:

War of the Roses

Publisher:

ISBN:

9781405921480

Published:

May 2016

Pages:

496

Format reviewed:

Paperback

Review date:

04/02/2021

Language:

English
Books in the series
I love Fantasy as a genre but sometimes I get the impression that it only exists because we can only retell our own history so many times. Tales of various houses fighting for the crown, treachery, murder, a cast of heroes of villains. I am not talking about the likes of Game of Thrones but our own past. I urge all Fantasy fans to read at least one retelling of the fall of Julius Caeser or The War of the Roses – you may see a few themes you recognise. If you do decide to read a fictional interpretation of history make sure it is by a good author and you cannot go far wrong with Conn Iggulden.
The series of power struggles that became known as The War of the Roses have been fought now for over a generation as the Houses of York and Lancaster vie back and forth. The Battle King, Edward IV has consolidated power in the country and is busy making a legacy for the future. In the tower sits Henry VI, a broken man whom others would still see in power. Further away in France sit another family who keep one eye on events. They have little chance to become royalty, but if the other Houses keep killing all their heirs there may be no one left. Surely this less powerful Welsh House cannot dream of Royal Succession – I mean, who has even heard of The Tudors?
There is little in fiction that is as powerful and entertaining as a good true story told through the prism of a talented writer. Ravenspur is the final act in Iggulden's War of the Roses series and sees events end. This is Historic Fiction and not non-fiction, therefore the author retains the drama and artistic licence required to entertain, but as this is such well known history, he must also keep to the facts. This is the big negative of using history as you are hamstrung by what happened – a dragon cannot just swoop in and pluck Richrd III from the battlefield. The rise of the Tudors does not have the drama and immediacy of the previous books, mainly because Edward was able to create a stable Kingdom for a while. This is not to say that the book is not full of battles and intrigue, just that the cast are slightly smaller and timeline a little longer.
The most interesting character is Richard. Painted as the villain by Shakespear all those years ago, he has a bad reputation. Iggulden does not suggest that he is nice guy, but a pragmatist. It is when power suddenly comes within his grasp that the decisions made could construed as being a little on the evil side. It was pleasure to spend time with Richard before he became the monarch and during his short reign. Iggulden writes him so well. The idea of the hunchback is dismissed, but he does live in pain. Could this battle with a twisted shoulder have affected his temperament?
The likes of Jasper Tudor, The Earl of Warwick and Edward IV also get recognition and the story is also told in part from their perspective. Like with the rest of The War of the Roses books, there are multiple sides to the story. In this case, Iggulden is even more neutral and can interpret brilliantly how events effect each character's wellbeing and mindset.
As well as being an interesting character study, Ravenspur is also a great action novel. There are a few battles spotted throughout the book that evoke the sense of mud and misery that it must have felt like as you waded into war. You get a good sense of it being better to be armoured and on horseback, rather than on foot with only a billhook. Richard III learned this lesson in the harshest way possible.
As a set of novels Conn Iggulden's The War of the Roses series is necessary for any fan of action orientated historic fiction, especially if you are not too familiar with the era, it is an excellent introduction. I also think that it would make ideal reading for any fan of Low Fantasy. All you would have to do is throw in the idea of ice men to the North or sleeping dragons and you would have the makings of a modern fantasy novel, but this is not fantasy, it really happened. This is what makes history amazing to read about, especially when told by a great writer.
You may also like