1999 - SFBook is born
We've been writing book reviews since the last Millennium, before blogging was a thing and before most carried powerful computers around in their pockets. Back in 1999, the internet was quite different to how it looks today. Google was still a baby and most people used the search engines "Alta Vista", "Yahoo" or newcomer "Ask Jeeves". Fast internet was just a dream. Broadband was in it's infancy and not available to most, although 1999 did see the first ever internet on mobile phones in the shape of "wap" (a severely limited and thankfully short lived technology). Back then people were stuck with dial-up speeds and some pretty basic web pages as a result. While the internet was gaining popularity, it was nothing like the invasive, encyclopedic, commercialised and add-ridden thing we see today.
SFBook began with Danish photographer Thomas Christensen (TC) who, after reading The Hobbit, began devouring science fiction and fantasy stories. He founded the website (writing reviews in his second language) as a way of remembering what he'd read. Over time, SFBook attracted attention and TC began to allow others to contribute. He even got to interview one of his favourite authors - Peter F Hamilton.
Back then there were no "YouTubers" or "vloggers" or even bloggers, just a small amount of people like TC who were willing to put their time and energy into their websites, mostly will little or no return revenue, just helping to grow the internet.

2007 - Science Fiction and Fantasy began
Ant, the current owner of SFBook, began reading speculative fiction from a young age (beginning with The Weirdstone of Brisingamen) but it wasn't until he found himself recovering from a serious illness that he began writing book reviews (although he'd built websites as far back as TC had). Partly as an exercise in recovery, partly to share his love of books with a wider audience and partly because he is an IT professional and cannot resist an excuse to start another project. He created the website Science Fiction and Fantasy in his spare time and hasn't stopped writing reviews and tinkering with the website since.

2008 - SFBook and Science Fiction and Fantasy merge
SFBook and Science Fiction and Fantasy were merged into one site under the ownership of Ant, who continued the tradition of welcoming both regular and guest writers to provide reviews. The framework for this combined site was re-built from scratch, while a new design was added.

2012 - SFBook gets a new coat of paint
Up to the present time, SFBook has been running with the design that was created in 2012 (shown below), created after Ant decided to play with photoshop a bit more and rebuild a lot of the site code (again). At the same time, the website gained a new reviewer specialising in horror books in the form of Cleggy.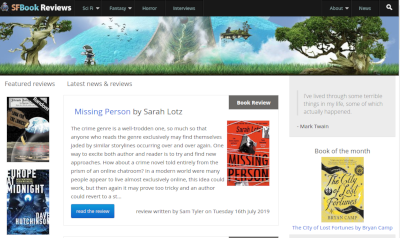 2013 - Vanessa Levin-Pompetzki joins the team
Vanessa began her speculative fiction reading with the Dragon Slayer's Academy series before moving on to Harry Potter, Ender's Game and many other works. She joined the growing team of reviewers in 2013.
2014 - Allen Stroud, Karen Fishwick and D.L. Denham join the team
The eminent Dr Allen Stroud, Assistant Professor, chair of the BSFA and all-round nice guy offered to write reviews for SFBook and has been doing so at a regular pace ever since. Around the same time the wonderful writer Karen Fishwick also kindly offered to join the expanding team. Also in 2014 DL Denham joined the group. A reader, writer and teacher, it seemed only natural that he began writing reviews also.
2018 - Sam Tyler joins the team
Sam Tyler, reviewer extraordinaire, loves reading so much be became a librarian. Sam joined SFBook to help the team spread the love of books and has been a great deal of excellent reviews ever since.
2019 - Another coat of paint, a rebuild and a birthday
SFBook is twenty years old, veritably ancient in internet years. To celebrate the site has once again been rebuild from the ground up, with a brand new, extended reviewer control panel, a much needed, more modern look and some great new features. During 2019 we'll be adding even more new stuff. If there is something you think would benefit the site please don't hesitate to get in touch and let us know.