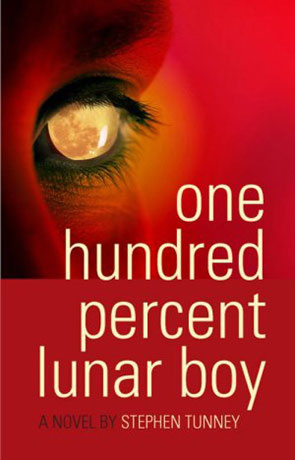 Book details
One Hundred Percent Lunar Boy

Publisher:

ISBN:

9781596923683

Published:

November 2010

Pages:

308

Format reviewed:

Hardback

Review date:

16/04/2011

Language:

English

Age Range:

N/A
One Hundred Percent Lunar Boy is a science fiction novel by Stephen Tunney.

Two thousand years from now and the moon has been terraformed as an experiment - long before humanity perfected the technique on other planets. As a result the moon has a breathable atmosphere but has a bright red sky and is filled with hummingbirds the size of small dogs.

The light side of the moon has been populated for centuries and people are born, grow old and die without ever setting foot upon mother earth. For sixteen year old Heironymus Rexaphin the moon is the only world he will ever know due to the rare condition known as Lunarcroptic Ocular Symbolanosis (LUS) which means that he can see the fourth primary colour, shining brightly from his eyes. Being able to see in four primary colours also gives him the ability to see the future path of time and matter.

People with LUS are the only ones able to see this officially denied colour and anyone without the condition can be driven mad if they even see a glimpse of this impossible colour due to their brain being unable to accept something so incomprehensible. Commonly known as One Hundred Percent Lunar people, anyone born with LUS is forced to wear special goggles to prevent anyone seeing their eyes and they are forced to spend their who life on the moon, never to leave.

One Hundred Percent Lunar Boy is almost genius, from the fact that it's set so far in the future that it's impossible to really imagine what it would be like - removing any pre-conceived perceptions of how the future will look - to the fresh, almost innocent perspective of a troubled One Hundred Percent Lunar teen. Then of course we have the very original idea of the fourth primary colour, which I must admit held some reservations for me before I began reading - being reminded of Pratchett's idea of magic as a colour. I had this idea in my head that the author would try and emulate Pratchett in a Sci fi Lunar setting (which would be far too cheesy), I am glad to say I was very very wrong.

Once you begin reading about the idea the author presents here it makes perfect sense and really fit's in with the style of the narrative - which has a simple and uncluttered approach, devoid of technobabble or lengthy exposition.

I love the Lunar setting and it really does allow you to understand what it would be like to live there but this is very much used as an allegory rather than a main plot device and the technology and far future timeline is nicely underplayed, giving a very literary feel to the novel (very much in the way of Philip K Dick).

Flashbacks are used to fill the reader in on the character's backstory and this is handled very well, at one point I was so absorbed with learning of Heironymus past I actually forgot that this wasn't the main thread, this is not something that happens to me very often and gives some indication of the power of the author's story telling. The plot is very much character driven and the author's ability to weave together intelligent, interesting and lively characters is quite inventive and thoroughly immersive.

The novel does have a few rough edges (as you would expect from a debut) - I lost count of how many times the hummingbirds are explained as being the size of a dog but these small niggles are few and far between and if anything help to highlight the books many positive attributes.

The first book in a trilogy, One Hundred Percent Lunar Boy has quite the cliff-hanger ending which made me really hunger for the next in the series. It's an intelligent, thought provoking and wildly original novel and deserves it's place amongst sci fi's greats.
Written on 16th April 2011 by Ant .
You may also like