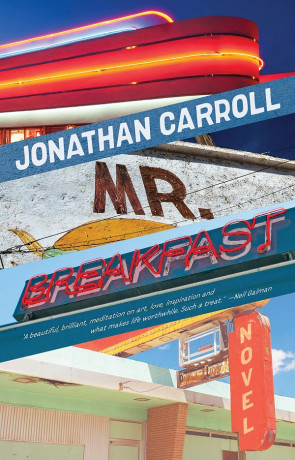 Book details
Mr Breakfast

Publisher:

Melville House

ISBN:

9781685890889

Published:

January 2023

Pages:

272

Format reviewed:

Paperback

Review date:

04/07/2023

Language:

English
Breakfast is my favourite meal of the day as I can indulge in some food I shouldn't really be eating from sugary cereal to a full English breakfast. There are other more sensible options; porridge or bran flakes. The wonderful thing is that I can choose each day what I want. What I am unable to do is eat my breakfast and then decide that I have changed my mind, the past is the past. In Mr Breakfast by Jonathan Carroll, stand up Graham Patterson has a more major decision to make than whether his eggs are going to be poached or fried. He has been given the chance to see two other lives that he could have led, will they be better than his failing comedy career?
After years of small venues and tepid laughter, Graham Patterson has decided to call it a day and cross the country in his car to take up an offer for work from his brother. The road trip was meant to be one last hooray, but it proved to be much more when he stops off on a whim to have a tattoo. This is no normal ink, it is magical. Graham now has the chance to visit two alternative lives and has the option to move to that life. Will he take up the opportunity? He is not the only person to have this tattoo and that may prove to be a problem.
Magical Realism is a tricky genre as its very nature makes is aethereal and hard to ground. Carroll is an experienced author who can take fantastical ideas and give them a sense of place and purpose. The landmark of the book is in Graham, a bundle of contradictions; confident enough to be on stage but lacks the gumption to make decisions. I call him a landmark as this is a book that floats around alternative realties, timelines and even people. It needs Graham at the centre to call back to for the reader to understand the direction the narrative is taking.
Carroll plays with the story, knowing that he can. Characters and twists are introduced throughout, and you may not pick up why something happened until later in the book. It is a clever puzzle of a story, with no solution available until the final pages.
With a sense of fantasy and magic in the air, this is not an ordinarily piece of literary fiction, but it does have that tone. It is a character piece, exploring what it means to live your life well. The happiest characters in the book are those that were offered the chance to try other lives but said that there were content with the one that they already have. This is one of the lessons of the book. It also discusses the idea of fate and intwined souls.
Mr Breakfast is a book that would appeal to a more mainstream audience than the genre fair I usually read. It grounded characters and exploration of the self is more in keeping with literary fiction. However, with its use of time travel, parallel lives, and magical tattoos, it is certainly also urban fantasy. Like another famous tattoo genre novel, Ray Bradbury's The Illustrated Man, this is a book that looks to transcend the concept of genre and just be an engaging novel.
You may also like