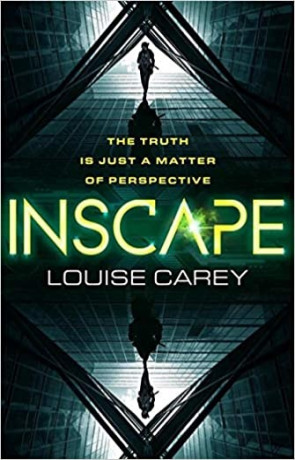 Book details
Inscape

Publisher:

ISBN:

9781473230002

Published:

January 2021

Pages:

421

Format reviewed:

Paperback

Review date:

25/01/2021

Language:

English
A lot of the political hustle and bustle in today's world has its roots in how far you think capitalism should go. Some countries are all for state control, others are far more laissez faire. Do private companies already have too much power pulling the strings behind our elected representatives? If these corporations are really in control how long will they be happy to stay in the shadows? Are we heading towards a corporate sponsored lifestyle like in Louise Carey's Inscape in which Big Business owns our humanity and fight Cold Wars among one another?
Tanta and Cole are two mismatched Agents for the mega corporation InTech. Tanta is young, driven, and loyal to the company – what they say goes. Coles is older, jaded and has large chunks of his memory missing after an accident with a memory wiper. They are an unlikely team, but Tanta has exceptional espionage skills and Cole is an expert in Cybersecurity. They have been tasked with discovering a leak and potential mole in the company. A safe assignment apart from the enemy corporation agent who can burn holes in people's chests and seems impervious to pain.
Inscape is a future techno-thriller that takes a few pages from the Cyberpunk genre, but it is told from the perspective of the corporate drones. More Cybersquare and at first it is difficult to feel sympathy for Tanta, a young Trainee Agent who is blinded to anything apart from her job and her lover. However, it is not long until things start to feel a little wrong as Tanta's loyalties may be manufactured beyond her control. The juxtaposition between Tanta's and Cole's overview on life is one of the most interesting aspects of the book as they both grew up as orphans who were took in and trained by InTech. Why did one see the orphanage as a place of fear and the other loved it?
One of the main technological advances in Inscape are the internal rigs that the characters have. They can read data and communicate through thought. The fact that this technology is different depending what corporation you work for leaves them open to industrial espionage. When you rely on something that is projected into your head, when can you trust it?
The central relationship between Tanta and Cole develops over the book into one of friendship and trust. They are vastly different but have skills that complement one another. You get the feeling of a great partnership developing like a Mulder and Scully. The book is not all character development as it is certainly a Techo-Thriller. There are plenty of great action set pieces were Tanta goes up against an enemy agent that is better in every way.
The way in which Carey has developed the world of Inscape makes it feel futuristic but is also very reminiscent of a good Cold War Thriller. Replace Communism versus the West with rival corporations and you have the same idea. There is even a bridge that you must cross to get to the other corporation run lands. When our protagonists are asked to go undercover the tension is heightened as they must stay hidden in a location designed to unearth them.
Like any good thriller, the tension rises as the book progresses. The conclusion is both explosive and intelligent. Some of the twists were signposted earlier for the more observant reader but even if you could see what was going to happen, it is a twisty and fun ending to the book. There are some nice pace shifts throughout the novel that makes it both a successful action book as well as a character study. There is a lot of juice to squeeze out of the Inscape world and the book has an open conclusion that promises more to come. Tanta's new perspective on life will be interesting to follow as her trust drifts, yet her corporate masters still believe her dependable.
You may also like