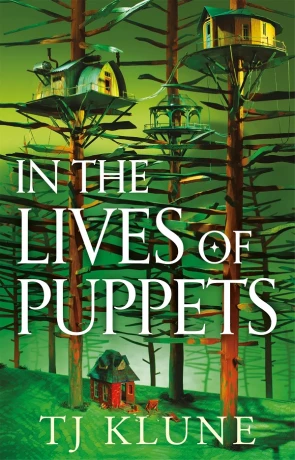 Book details
In the Lives of Puppets

ISBN:

9781529088021

Published:

April 2023

Pages:

418

Format reviewed:

Hardback

Review date:

28/04/2023

Language:

English
I am all for a retelling of a classic story, but some of them are not that close to the source material. Pinocchio is having a renaissance with two recent film adaptations and now a new cyber future take in T J Klune's In the Lives of Puppets. I can see a puppet like creature, something resembling a whale and a mistrustful entertainer, but I do not recall a chatty robot vacuum cleaner or sociopathic nursing robot in the original? This is going to be one fun retelling.
Deep in the woods an old man grows lonely, but he is no man. When a couple stumble across his secret home they leave a baby with him for protection. This baby grew up to become Vic, an adventurous young man who likes to find and fix machines from the nearby scrap yard. One day Vic stumbles across an android on the brink of breaking. Vic fixes the android known as HAP, but by doing so he opens the world of Gio and Vic to the Authority, a group that have an unhealthy interest in Vic and the blood that runs through his veins.
After reading only a few chapters of Puppets I decided to see this as a homage to Pinocchio, rather than any sort of retelling. The setting and characters are so different that Klune makes the right decision to let their story take its own course. The main beats and characters of the original are hidden within the story, but this is Vic and HAP's story.
The past for both HAP and Gio is integral to the story, we learn that they were not always benevolent robots. Vic must decide how he is going to process this. With a very sheltered upbringing, Vic is thrust into an adventure that he finds hard to comprehend at times. At his side he has faithful friends in Rambo the robot vacuum cleaner and Nurse Ratched. As the names suggest, these are two comedic characters and they antics constantly lighten the story. It feels a little at odds with the world that Vic exists in. This comedy exists in what is essentially a dystopia. It works to push one of the core messages in the book – love. The protagonists love one another and will protect each other, it is just that at times Rambo and Ratched's quips feel written for the reader and not always the other characters.
Vic relationship with his father Gio is central to the book, but so is Vic's relationship with HAP. At points they all create one another. The relationship between Vic and Hap is a complex one that leads to deeper things. I am not sure how I feel about someone bringing a robot to life, helping it to evolve and then fall in love with it. I found it a little difficult to get over the power dynamic between 'father/inventor' and machine. I am not sure falling in love with you creation is right or would work out well.
Moving away from some of the complex relationships in the book, the world of Puppets is an interesting one. It reminded me of Kubrick's take on Brian Aldiss' short story, AI (Artificial Intelligence). That itself had strains of Pinocchio running through it, but is anything, this book is even darker. Thankfully, the comedic characters really do lighten the book to make a breezy and entertaining read, even if it does have some relationships that you may need to unpick.
You may also like