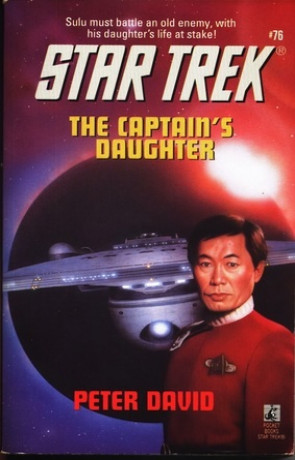 Book details
Captain's Daughter

Series:

Star Trek

Publisher:

ISBN:

9780671520472

Published:

December 1995

Pages:

288

Format reviewed:

Paperback

Review date:

04/05/2020

Language:

English
Books in the series
There are many things that I want to be in life, but I don't want to be the relation of a famous Star Trek character. You are only there to be killed off at some point e.g. Kirk's Son or Father depending on what Universe you are in. Now in Star Trek: The Captain's Daughter by Peter David it is the turn of Sulu's daughter. How will the master of mirthful Star Trek books deal with grief? Perversely by killing someone off and then throwing us straight into a rip-roaring flashback.
After Kirk's retirement to teach at the Star Trek Academy, the crew of the Enterprise have dispersed across the Universe. Sulu is now Captain of his own Starship and his daughter, Demora, has followed him into the Corp. Life is dangerous in space as Demora is sadly killed in mysterious circumstances during her first away mission. Sulu is broken up and the death of his daughter forces him to reflect upon his life and make decisions that could finish his career.
Dealing with death in fiction is not easy, you want to reflect upon it but, if you are writing something that is meant to be full of adventure like Star Trek, you do not really want to be bogged down in it for too long. It does not come much harder than the death of a child and Sulu is hit hard by the news of his daughter. The initial scenes of the book follow Demora on her mission and her death. David then snaps back to Sulu and his past. Here the book takes a jarring turn.
Daughter is almost a series of short stories as it bounces back and forth between Sulu's present and moments in his life that included his daughter. The first such tale is of how Sulu met her mother in the exotic adventure city of Demora. We go from one of the most harrowing moments in a character's life to a knockabout adventure akin to Indiana Jones. Separately, the two elements work; David writes grief as well as he does adventure, but the two together is unsettling. We are reeling from the death of a young women only to be thrown instantly into a series of high energy hijinks.
It took a while for the book to hit the right balance. We learn that Sulu never gives up and wants to know why and how his daughter died and in science fiction, just because someone is dead does not mean that they will remain so. Afterall, one of the films is all about Spock's return. With a sense of hope comes a lightness in the reader's perspective. No longer are you torn between the comedy and the tragedy as the stakes may be a little lower than first perceived. I was never able to get over the jarring first switch between death and action, but it becomes much easier to handle and understand as the story goes on.
The great thing about tie in novels is that you get to concentrate fully on a character like Sulu who is so often second fiddle to several other of the Enterprise crew. The fact that he has a daughter was news to me, but David can explain their strained relationship and why I may be clueless of the fact. Sulu's strong sense of honour has helped him forge a career, yet it has never managed to help his relationships. By the end of Daughter there has been a shift in the way Sulu perceives the world. This type of dramatic character development would never have been allowed in the show and it highlights what a good tie in novel can achieve.
Allowing the character of Sulu to breath and expand makes Daughter a Star Trek book worth reading, but only by the fan. Some of the books work as standalone solid science fiction, but this book is really for the people who know and remember Sulu. The fact that it starts with a tone death moment; flipping from death to fun in seconds, means that it is an unsettling book. By no means the greatest tie in novel that Star Trek has seen, but once again a decent outing and a quick read for any fan of the series.
You may also like