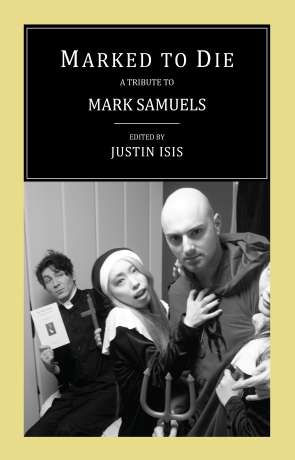 Book details
Marked to Die: A Tribute to Mark Samuels

Publisher:

ISBN:

978-1943813148

Published:

June 2016

Pages:

452

Format reviewed:

Paperback

Review date:

14/10/2016

Language:

English
First of all: don't worry. Mark Samuels - the well known British horror writer- is alive and well ( although, maybe, crossing his fingers). It's not common to dedicate a new short story anthology to celebrate a living author ( whose career, hopefully, will last for many, many years to come) but that's the way it is . Editor Justin Isis has assembled a massive volume featuring eighteen tales , plus a coda, penned by a group of fellow writers active in the field of dark fantasy and/or speculative fiction.
The book is, predictably, a very mixed bag including both excellent stories, fairly acceptable material and a few misfires. That's quite normal for most anthologies.
Also predictably, some contributors appear to be naturally in tune with Samuels' notorious gloomy view of the human condition and of the world as a disquieting place. Other authors seem to be not quite at ease, having forced their usual style to produce stories which sound a bit as pastiches echoing Samuels' previous books.
Up to you, dear reader, to judge if I'm right or wrong. Let me mention, however, the stories that I found more accomplished and enjoyable.
Reggie Oliver's "Rapture" is a good tale addressing the issue of religious fanaticism merging with the paranormal, while John L Probert's " The Men With Paper Faves" is a disturbing story about a man whose eyes, after an accident and a surgical intervention, become capable of seeing things that we usually cannot see.
Editor Justin Isis provides " The Black Mass", an offbeat piece featuring Mark Samuels himself who, touring Japan to promote the launch of one of his books translated in the local language,gets involved in a nightmarish chain of events of cosmic horror.
Stuart Young contributes "The Carnivore of Monsters", a weird, long tale about a young man whose pancreatic cancer is continuosly and incredibly  sent in remission by cell phones...
My favorite stories are " The Golden Dustmen" by Colin Insole, a delightful antiquarian tale disclosing London mysteries from a long gone past,  and "White Light, White Heat" by Adam Nevill, a Kafkaesque piece where an editor, fired by a demanding publishing company, avoids defeat and  finds revenge and salvation in a religious catharsis.
Other contributors include : Daniel Mills, DF Lewis, John Mundy, Kristine Ong Muslim, James Champagne, Brendan Connell & Quentin Crisp, Thana Niveau, Simon Clark, Ralph C Doege, YArrow Paisley, Jon Paul Rai and David Rix.
Written on 14th October 2016 by Mario Guslandi.
You may also like